Winter Classic: HBO's 24/7 to debut on Dec. 14, air in Canada as well
HBO's '24/7: Road to the Winter Classic' is officially back for the 2014 game in Michigan. Not only that but it will also air in Canada on Sportsnet.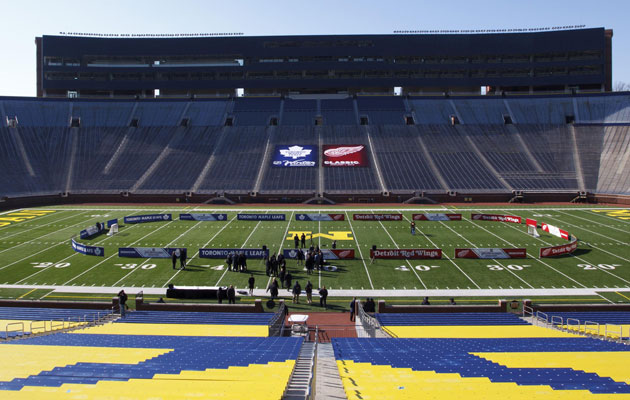 More NHL: Scores | Standings | League Leaders | Odds | Injuries | Power Rankings
Don't fret, hockey fans. HBO's 24/7: Road to the Winter Classic is officially coming back.
The NHL announced on Thursday that with the return of the game (canceled last season thanks to the lockout), the awesome HBO show will return as well. There had been some doubts that perhaps it wouldn't come back but those were alleviated earlier this year when word came down the series would be back on. They were taken away completely on Thursday.
In addition to airing on HBO, the show will also be picked up by Sportsnet in Canada. Given that this year's Winter Classic includes a Canadian team in the Toronto Maple Leafs, that was to be expected. Our friends north of the border deserve to enjoy the tremendous TV that 24/7 provides as well.
And tremendous exposure. Speaking just for myself here, but 24/7 has become my favorite part about the Winter Classic, more than the game itself. It's helped give hockey a little more attention and having two Original Six teams this year with the Red Wings hosting at Michigan Stadium, it should only increase.
"HBO's 24/7 has been a game-changer for us," said John Collins, COO, NHL. "The wide-open access our clubs provide on and off the ice gives a real sense of what it takes to play in the NHL and just how special our players are. Our fans love it and there's no question new fans have been attracted by watching the games and the personalities that come alive through the lens of HBO's storytelling. Red Wings-Maple Leafs will provide no shortage of great stories and having Sportsnet as our first partner in Canada will make this year's edition bigger than ever."
Set your calendars; the show will debut on Dec. 14 in the States on HBO, the next day on Sportsnet (presumably edited). The show as usual will air four episodes that will end with the actual Winter Classic game being played.
Pittsburgh sits atop them all as the repeat champs, while Nashville rises up after its big...

Islanders could also be loading up for scoring talent, and Vegas has plenty of D-men to se...

Fired by Dallas this offseason, Ruff is expected to replace Jeff Beukeboom
Even without a can't-miss prospect, the first round features a handful of solid center pic...

Casey Mittelstadt goes off the board in the top 10 picks of the 2017 NHL Entry Draft

New Jersey makes the Halifax Mooseheads star the first overall selection in this year's dr...