Yankee Stadium to host two outdoor games featuring Rangers in 2014
The Stadium Series announcements continued Wednesday, when two games were announced for Yankee Stadium involving the New York area's three teams.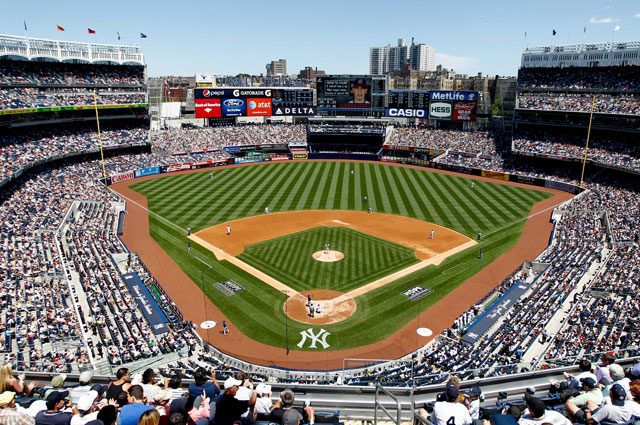 More NHL Playoffs: Scores | TV Schedule | Expert Picks | Odds | Mock Draft | Rumors
In the next installment of the NHL's Stadium Series, the league officially announced that the Rangers will play the Islanders and Devils in a pair of games at Yankee Stadium next season.
The first game will be between the Rangers and Devils, scheduled for 12:30 p.m. ET on Jan. 26, a Sunday. The Rangers-Islanders game will come four days later on Jan. 29 at 7:30 p.m. ET. The Rangers will be the designated road team in both contests.
As you recall, the Rangers have played outdoors already. They were the opponent for the Flyers in the 2012 Winter Classic in Philadelphia. The Devils and Islanders will be making their first outdoor appearances.
New York has seemingly been waiting for the NHL's outdoor games binge to come its way for some time, and they're going to make up for the lost time with two games in a week. Yankee Stadium was the ideal choice with the history of the franchise that calls the stadium home serving as a great backdrop for hockey in Gotham. Not to mention the football stadium in New Jersey will be a little busy getting ready for this game called the Super Bowl the following Sunday.
"The teams playing in these two games -- the Rangers, Islanders and Devils -- have tremendously loyal fans, and the rivalries are intense because of their proximity and playoff history," said Mathieu Schneider, NHLPA special assistant to the executive director. "Yankee Stadium is a landmark venue in New York City, and to see hockey played in such a celebrated setting will be extremely memorable to the players and everyone involved."
The games set for Yankee Stadium join a growing list of outdoor games next season. The NHL has already announced games for Michigan Stadium (the Winter Classic between the Red Wings and Maple Leafs), Solider Field in Chicago (Pittsburgh vs. Chicago) and even one at Dodger Stadium between the Kings and Ducks. It is expected one or two more games could be announced, likely in Canadian cities.
The new Yankee Stadium has built up quite a resume in only a few years of existence. In addition to hosting the Yankees, the stadium is also the host to a college football bowl game, the Pinstripe Bowl. Hockey makes it three sports already.
Show Comments
Hide Comments
Our Latest Stories
Pittsburgh gets the help it desperately needs, while Carolina keeps stockpiling future tal...

Aramark, Heinz Field's food provider, is featuring a face-off of city-inspired dishes for Saturday's...

Once the most favored potential Stanley Cup winner, Chicago has fallen behind Washington,...
In the first big move before the NHL's March 1 trade deadline, both teams benefit from Stone...

Avalanche center tops the pool of big names dropped in trade rumors this season

Here's how to catch this year's Battle of Pennsylvania featuring the Flyers and Penguins