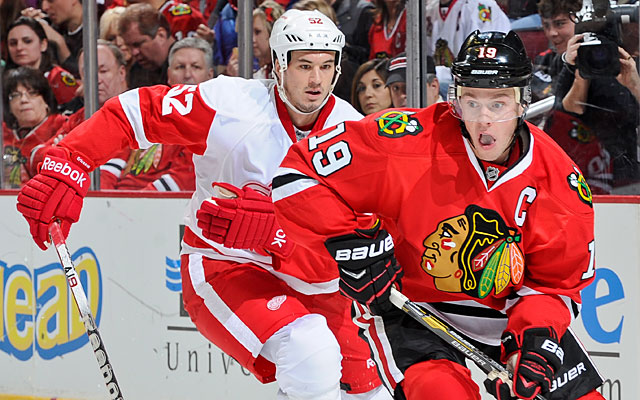 This week is about market corrections.
We admit the first in-season edition of the Power Rankings was a bit of a reach, going off such small sample sizes. It was more fun than anything. We didn't know then that the Florida Panthers would look so utterly horrible in the ensuing four games.
Nor did we know how good the Sharks and Blackhawks would be. Well, maybe we knew about Chicago because we figured it was a true contender coming into the season. But San Jose? Well, the thought here was that the sun might be setting on a veteran core. Oops.
The Sharks are off to a franchise-best 5-0 start. Patrick Marleau is playing out of this world, with nine goals in five games. Joe Thornton has been maybe even better than Marleau with three goals and 10 assists.
Are they playing above their heads at the moment? Yes. Don't expect Marleau to score nine goals every five games and shoot 37.5 percent all season long or for the team to score on 13.9 percent of its shots while opponents only convert on 5.9 percent of theirs. The Sharks are extremely hot at the moment and surely there will be a cooling period to come.
But you don't do what they have done without being good. Teams with no talent don't go plus-15 in only five games. They don't convert power plays at a 37.5 percent clip and make it look easy in the process. The compact nature of their power-play unit while maintaining spacing is impressive.
It was a tough call who to put at the top of this week, as the case can be made for both San Jose and Chicago right now. But given that the Sharks are doing it so convincingly gives them the edge.