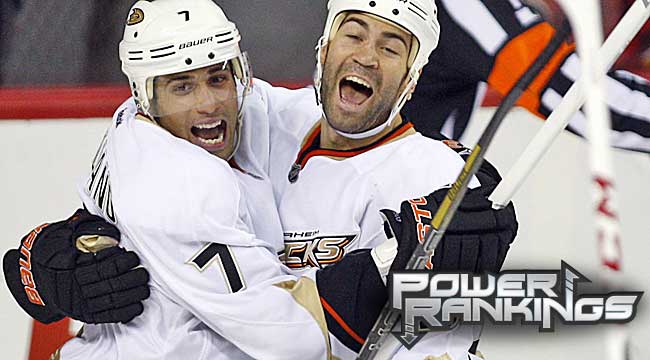 Last season when the Anaheim Ducks hired Bruce Boudreau midseason, it looked like a perfect fit. Boudreau was handed a lineup with a lot of similarities to the one he was given in Washington when he made the Capitals the most exciting team in the league to watch.
It took a bit for things to click in Anaheim, but the flashes that we saw with their strong second-half surge last season are carrying over now. They are showing the level of play that was expected of them when you have guys like Corey Perry, Ryan Getzlaf and Bobby Ryan (not even mentioning Teemu Selanne and Saku Koivu).
Perhaps it's because they are on the West Coast or because they are in the same division as the San Jose Sharks, but perhaps not enough attention has been paid to this team. So far they have been beaten just once in 60 minutes, coming at the hands of the Canucks. I know you're asking a lot to take away one game, but if you did remove that 5-0 loss to Vancouver, they have outscored opponents by 10 goals this season. Not bad.
The critics will look at their numbers like an impressive 13.8 shooting percentage and see a regression. That's fair, they probably can't maintain that kind of success shooting (and thus, scoring). But it helps when you have an elite power-play unit that connects 33 percent of the time. Again, that number won't stay so high, but there's no denying the Ducks have firepower on that power play.
While that offense is likely in store for some regression, it works some on the other side of the ledger, too. They have been winning early despite some rather horrific numbers from No. 1 goaltender Jonas Hiller. You remember him; he was an All-Star a few seasons ago. Not so much right now as he is the holder of a 3.54 goals-against average and .871 save percentage. Assuming he hasn't gone all Steve Mason on the Ducks, you'd expect him to return to career averages of 2.55 and .917.
Will it last in Anaheim? Maybe, maybe not. Perhaps in the Ducks' favor is that they actually aren't getting the big scoring from guys you'd expect like Perry and Ryan. It's instead coming from guys like Daniel Winnik and Nick Bonino. For a team that has lacked depth in recent seasons, that's great.
So whether it lasts or does not, what matters is that they are not dead and buried like they were so early last season.