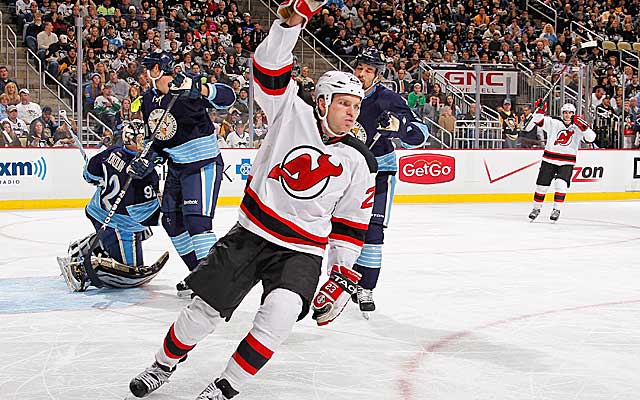 I admit it has taken me a while, but I'm here to finally give the Devils their due.
I had my doubts coming into the season on the defending Eastern Conference champs. I thought they just got hot last postseason so I wasn't ready to read in too much to the Stanley Cup Final appearance. I also saw what this team did two years ago when they didn't have Zach Parise and expected that to be a loss they felt this time around.
That thinking neglected to take into consideration this guy who had a breakout season a year ago named David Clarkson. You know, the second-leading goal scorer in the NHL behind only Thomas Vanek (tied with Patrick Kane and Patrick Marleau), the guy who used to be a grinder? He's become a scorer. It's getting tougher and tougher to say last season was a fluke because he just isn't stopping.
He had two more goals on Sunday as the Devils finished making a pretty strong statement by sweeping a home-and-home with the Pittsburgh Penguins. All of a sudden they have a three-point lead in the division and are atop the Eastern Conference standings.
But it's hardly all about Clarkson. We must give respect to our elders, too. That would be the over-the-hill duo in net of Martin Brodeur and Johan Hedberg. Combined they are 79 years old but are hardly showing it. Brodeur has been good, not exceptional but not bad. Hedberg has been unbelievable. He has three starts and has a 0.65 goals against average and .973 save percentage. That's certainly not going to last forever and Brodeur is not in danger of losing the No. 1 job, but wow is that impressive.
This is the part where we finish telling you the Devils are legit by acknowledging the job that coach Peter DeBoer is doing. Watching them, it's pretty evident how well-coached they are; the breakdowns are minimal and they are precise in the way they operate offensively.
Remember the old saying in sports: You're never as good as you look when you're winning and never as bad as you look when you're losing. In other words, the Devils are really hot right now with five straight wins and aren't this good. But I'll be damned if they aren't for real again this season.