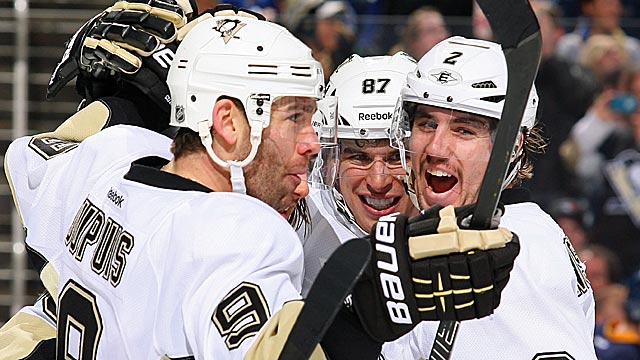 Sometimes I just can't understand a fan's mind. It's one thing to be passionate in not only supporting your favorite team but also disliking your most-hated team, but it's another to lose objectivity.
I'm a fan and I cheer for my alma mater in sports like there's no tomorrow, but I can admit when they're an underdog or just simply not as good as our rivals, which I hate.
Anyway, this brings me to the Pittsburgh Penguins. This is a completely unscientific poll here, but I get the feeling this is the NHL's most-hated team. I could rank the Penguins 30th out of 30 teams and some would find that ranking too high.
If I were to guess, I would assume it has to do with fans' dislike for Sidney Crosby and the feeling that the team gets a lot of cachet just based on the logo on their sweater. It's "the Penguins are always overhyped" type of thinking. But it's probably mostly Crosby.
Regardless, it all takes away from the fact that, yes, the Penguins are really good. Like it or not, it's the truth. They, like any team, aren't without their weaknesses (ahem, Marc Andre-Fleury), but their weaknesses are not as weak. Sometimes I feel that's what separates teams in professional sports; not who is the best at some things but who is not the worst at some things. That's where the Penguins fit: not too bad in their weaknesses.
Undoubtedly the defense is still worrisome, the memories of last spring's playoff series with the Flyers still lingering in peoples' minds. But it's not all bad back there. Last season Paul Martin couldn't have been shipped out of town fast enough by the fans. This season he's been solid, significantly better.
A lot of credit goes to coach Dan Bylsma. Like all coaches he knows what his team does and does not do well, but he's able to mask that a lot better. He has his team play an aggressive style, the "best defense is a good offense" approach to the game. He also has a competent backup goaltender this season in Tomas Vokoun, somebody who is certainly good enough to still be a starter somewhere else. It's up to Bylsma to play the balance on both goalies and so far he's doing it.
Like it or not, the Penguins are for real. At this point they're one of only two teams in the NHL that has double-digit regulation wins (Chicago the other). They are plus-14 in goal differential and 8-2-0 in their last 10 games. Oh, and did I mention that they are also 8-2-0 away from home?
There's a reason why they're in the top five and it has very little to do with the names on their jerseys. They're playing like a top-five team, simple as that.