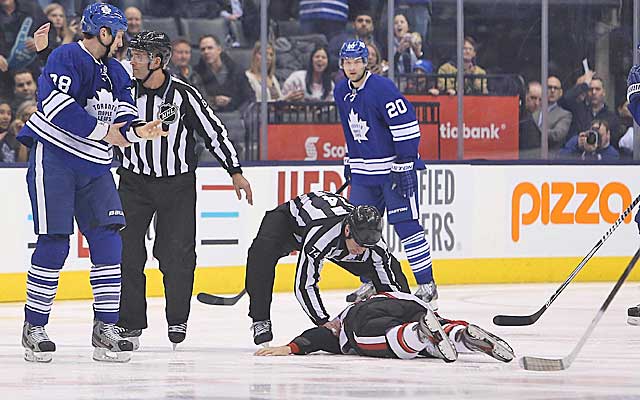 Maybe somebody has to die. Maybe that's what it's going to take for the NHL to swallow its pride, stare down much of its fan base and ban fighting.
Somebody was damn lucky not to have died Wednesday night, when Ottawa's David Dziurzynski hit the ice head-first after Toronto's Frazer McLaren beat him senseless.
McLaren threw a perfectly placed right to the jaw and Dziurzynski was knocked out. He was still upright, but not for long. He crashed to the ice, landing on his head. Luckily for Dziurzynski, in a manner of speaking, he had so completely lost muscle control that his chin drooped into his chest, and the first thing to strike the ice was his helmet-protected forehead. If his head were tilted a few inches less ...
Imagine what we're writing today about Dziurzynski -- He was survived by ... -- if he hadn't been wearing that helmet.
Never mind the imagination. I'll tell you what could and maybe even would have happened to Dave Dziurzynski if he weren't wearing a helmet: the same thing that happened to Don Sanderson in 2008. Sanderson's helmet had just fallen off when he got into a fight and went down on his head. First came the coma, then brain surgery. Three weeks later he died.
Helmets come off in the NHL, too. All the time. They get knocked off by a punch, or they get voluntarily shrugged off because to some players, fighting in a helmet is for sissies. And hockey players aren't sissies. Neither are hockey fans, some of whom sneer at other sports for being soft -- and sneer at writers, as I'm sure some are sneering at me, for being soft as well.
Hell, maybe I am soft. My favorite sport is mixed martial arts, which I embraced at age 37 by walking into a UFC fighter's gym and begging him to choke me unconscious. After that I boxed for five years -- had four amateur fights -- and just Wednesday wrote mournfully about the UFC's inability to outgrow niche-sport status.
If anything in that last paragraph says "soft," so be it. Call me soft, but not a hypocrite. It's not hypocritical to celebrate fighting as a sport while being turned off by fighting within a sport. The way people like me see it, there's room for fighting in sports -- in fighting sports. Hockey isn't a fighting sport, or shouldn't be.
The best hockey in the world -- the most beautiful hockey -- occurs every four years in the fighting-free Olympics. Fighting isn't tolerated in European hockey, either, and hockey does OK over there. Pick a fight in Europe, and you're ejected -- plus your team faces a five-minute power play. Pick a fight in the NHL, and the referee blows the whistle to make sure everyone can watch. The crowd loves it, but that's what crowds do. Crowds love fighting at a schoolyard or in the parking lot at Burger King, too. Doesn't make the crowd right.
Interestingly enough, fighting doesn't seem to be a tactic that wins games. Teams use it as a tool to get the crowd fired up, insulting their fans by basically saying, "We know you're not here to watch hockey, so here -- here's two goons throwing down!"
Or they use it as a tool to get themselves fired up. McLaren said his fight with Dziurzynski -- 26 seconds into the game -- was preordained.
"We had a flat start last game. I was just trying to get us going early," McLaren told the National Post. "I asked [Dziurzynski if he wanted to fight] and actually he said no and so I didn't think we were going to go and then he ended up dropping his stuff ..."
That's why this fight happened. Other fights? Often they happen because the game's out of hand, and since the outcome won't be affected by a fighting penalty ... why not? This is hockey. It's what we do.
This is some fascinating reading on NHL fighting. According to that research, a fight in the third period is almost six times more likely during a two-goal game than a tie. A three-goal blowout? Twenty-five times more likely.
Playoff hockey, like Olympic hockey, makes do without fights because players don't need to fight -- they just like it. The NHL dutifully allows them to for the same reason an eighth-generation Democrat or Republican raises a ninth-generation one: Because that's the way the family has always done it.
You saw the McLaren-Dziurzynski fight. Now watch this one from 2007 between Todd Fedoruk and Colton Orr. Watch what happens to Fedoruk's skull.
Men can fall head-first onto the ice only so many times before tragedy strikes and one ends up in a coma or coffin. Maybe it happens next month in the NHL, or next week. Maybe tomorrow night. Maybe then the NHL will eliminate fighting.
Maybe not. We've always fought in the NHL ... pansy.