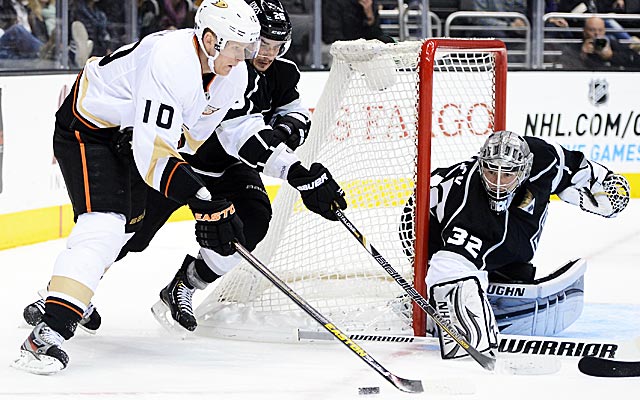 When you think of hockey, you think of cold temperatures, frozen lakes and ice, not sunny beaches, warm weather and palm trees. But Southern California is trying to change that.
The Ducks and Kings are ripping through the Western Conference at the moment, potentially on a collision course for a postseason matchup, something that has never happened. One or the other has been good at various times, but it's pretty rare when both are. This season, both are.
You knew it was only a matter of time before the Kings started to win again. The offense, moribund to start the season, is going again. In their past 14 games they're averaging 3.4 goals; not too shabby.
They can largely thank Jeff Carter for that, the trade-deadline acquisition last season whose job was to come in and supply more offense, so good on him for that. He is tied for second in the league with 17 goals. Who cares that he only has two assists? He has one of the best wrist shots in the game and that's the reason he's paid big bucks.
Coming into the season, the Kings were undoubtedly among the group of teams in the Cup conversation and they're reminding us why. Last postseason was not a fluke; they're good enough that they could repeat.
Entering the season the Ducks were not in that conversation. Everybody was aware that the Ducks had some talent, but you probably would have been considered a little off to predict a jump like this. For a while last season, the Ducks were battling the Blue Jackets for last in the NHL.
I hate to give too much credit to coaching because players have the greatest influence, but you can't ignore the Bruce Boudreau impact. He has now coached 82 games as the Ducks' bench boss -- a full season's worth -- and in that time the Ducks are 45-26-11. In other words, they're a 101-point team under Boudreau.
There's this pretty good team in Chicago you might have heard of and they're in the same division. That would make a potential Kings-Ducks playoff matchup a bit tougher, but it would be something to see the first freeway faceoff in the postseason.
Hockey in SoCal, gotta love it.