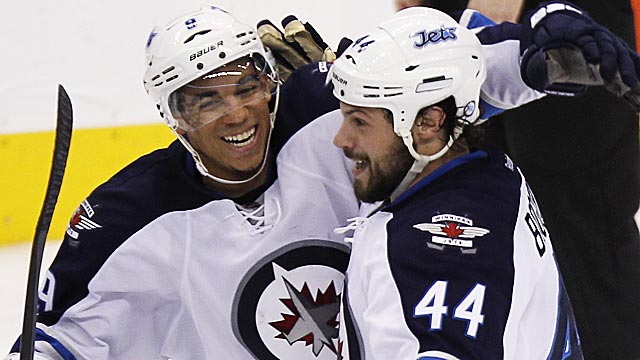 It's about time we talked about the Winnipeg Jets.
If you look at the standings, at this moment in time not only would the Jets be in the playoffs, they would be hosting a game right away by virtue of the Southeast Division crown. The return of the whiteout is within reach.
Is Winnipeg so sure it wants to get away from the Southeast in realignment?
Let's be honest; the Jets aren't world-beaters. Much like the Panthers last season, I think every team in the East would be happy to draw Winnipeg in a first-round series, even without home-ice advantage. It's not an easy city to play in, but the Jets haven't been lights-out at home.
They're certainly a flawed team. Ondrej Pavelec is the same goalie he's been for a few seasons now; good enough to, on occasion, lead his team to a victory it probably otherwise shouldn't have had but more often than not he's subpar.
Offensively speaking, the damage is being done almost exclusively by three guys: Andrew Ladd, Blake Wheeler and Evander Kane. Between them they have 37 goals. The rest of the team combined has 39. While you can't say enough good things about the way Ladd is playing, that kind of reliance on so few isn't terribly healthy for sustained success.
But the Jets are putting up the points and that's what matters. They will have to fight Carolina for the division title and I still believe the Hurricanes are the superior team. But with the way the Eastern Conference is starting to split, there's a pretty good shot they could be thinking playoffs in Winnipeg.
What makes it even more believable at this point is that the Jets have played a pretty road-heavy schedule. At this point they have played 17 games on the road vs. just 12 at home. That means 12 of their final 19 will be on home ice and while it might not have been the case for the first part of this season, as recently as last year that makes a big difference.
Is Winnipeg perfect? By no means. It's not close, really. But in the Southeast (and Eastern Conference as a whole, for that matter) where there is some room to squeeze in, the Jets are setting themselves up.