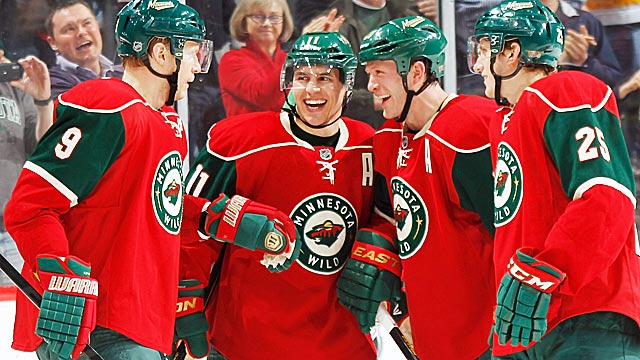 Entering the season, there were a lot of high hopes in Minnesota surrounding the Wild. They made the splash of the summer when they acquired Ryan Suter and Zach Parise, resulting in an increased fervor around the team.
Rightfully so, they were two excellent additions but the excitement seemed a little premature. The Wild were going to be better, but we had to exercise some patience to see it really start to pay off.
Apparently, all you needed was a few weeks' worth of patience because we're starting to see it.
Save for the Pittsburgh Penguins, there is no team in the NHL playing better hockey than the Wild. They have won five straight -- all in regulation -- and seven of eight. Over the stretch, they twice have beaten their closest rival in the Northwest Division, the Canucks. They have moved into playoff position and at this point look like a very safe bet for the postseason.
While Suter and Parise have been worth it and are definitely a big reason the Wild are where they are at this point, it's not all them. Niklas Backstrom is enjoying arguably his best season in the NHL since his rookie campaign with a .921 save percentage and 2.23 goals against average. Those are both better than his career averages, but that doesn't mean they will necessarily fall. He has a better team in front of him now too. Not only is it Suter but rookie stud Jonas Brodin and the rest of the young core. All of that contributes to the Wild being the fourth-stingiest team in the league.
No team is ever as good as it looks when it's winning, and that's the case for the Wild, too. They're hot right now, playing perhaps above their heads. Not that there's anything wrong with that. You ride the good times while they last. The key is that when they slow down, they don't simply collapse. The Wild won't collapse.
With such a deep prospect base, my expectation was that the Wild were still going to be a couple of years away. That's not to say they are true Stanley Cup contenders this season -- I don't think they are -- but they are undoubtedly playoff contenders and could grab the three seed in the West. For where they have been in the past few seasons, that's more than enough for now.