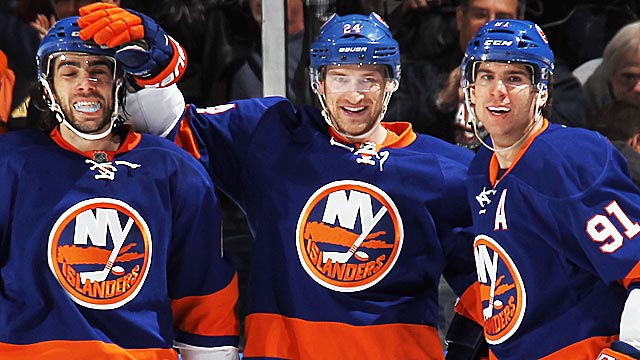 It has taken a few trying years and some very creative attempts to get here, but the New York Islanders are back to the world of relevancy. They are no longer just a franchise that exists to provide Rick DiPietro and Mike Milbury jokes.
Because the Islanders are still the same franchise that has been more or less ignored in recent years -- it doesn't help having the Rangers and Devils within driving distance -- they have still been under the radar this season. My guess is that it's because people think they're a mirage, another team taking advantage of a shortened season and the chaos that can create.
What they would be missing is that the Islanders are a really fun team to watch once again. Their game in Winnipeg on Saturday had about all that you can ask for. It was up and down, it was tight and it had two teams battling for the playoffs, creating one wild atmosphere in the 'Peg. The overtime was simply thrilling.
They have some talent that is starting to come around. How they got said talent is even more interesting.
Despite being so bad for a few years, the Islanders aren't chock full of homegrown prospects starting to blossom. There are guys the franchise has fostered, most notably John Tavares, who has become a Hart Trophy candidate in my mind. But they also have guys like Michael Grabner (16 goals) who were claimed via waivers and others like Brad Boyes (34 points) who were signed on the cheap.
GM Garth Snow was forced to be creative and he was. Somehow he's found the right mix.
That's not to say the Islanders are perfect and are going to contend this season. They're not, and I don't think so. There are still questions in goal even if Evgeni Nabokov has been better. But I do know that the Islanders are playing their best hockey right now -- their best in many seasons, in fact -- with an 11-game points streak. They won't be just an easy out.
It's been a long time coming, and it took a lot of preaching about patience that's finally starting to pay off. The Isles as a franchise appear to be starting to turn the corner and just in time for the playoffs this season.