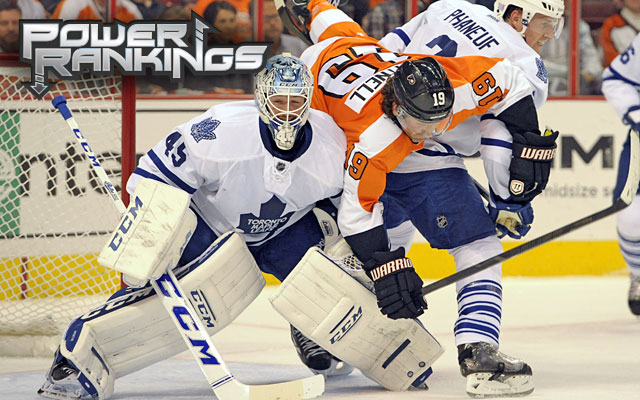 One thing that turns people off about college football is the preseason polls. A lot of stock is put into where pundits believe the teams will stack up before a single game is played. Down the line, that can have a strong impact on who gets to play in what bowl games and in some cases which teams get to play for the national championship.
It's always a flawed premise, weighing teams against where they started vs. what they actually accomplish. That said, early in the season, after a week or two, it makes sense to use a bit of both, a hybrid ranking if you will.
That brings us back to hockey. Two games, give or take, isn't enough to get a good gauge on where teams stand. We have to go off what we know, how they did last season, etc. At the same time, though, it can be a bit disingenuous and ignore the realities of the situation. So for the first Power Rankings of the season, we're playing a bit of a relaxed overreaction theater.
We must give ourselves some credit. At least we're not overreacting as strongly as Flyers general manager Paul Holmgren. After only three games -- three games!!! -- he has decided he has seen enough of Peter Laviolette and let his coach go. Perhaps that's because the Flyers have a whopping three goals in three games this season, one at even strength. Naturally they have three losses to show for it.
If this seems fast, that's because it is. Laviolette's removal is the earliest in-season firing the NHL has ever seen. That's saying something seeing how the league goes through coaches like a kid through candy after Halloween. Granted, Laviolette has a four-year track record in Philly, so it's more than merely three games. Still, that's awfully quick. The season is 82 games again this season, not 48.
Regardless, the Flyers are pretty much at rock bottom at this point, aren't they? They missed the playoffs last season, they can't score this season and they have Steve Mason as their top goalie right now. So there's some good news for new coach Craig Berube -- there's only one way to go. It starts with getting the Panthers at home on Tuesday, about as perfect of a matchup as one could ask for in a coaching debut.
Now it becomes a question of whether coaching can save the Flyers' season before it gets out of hand. Typically teams see a boost from a new coach, but not a whole lot and it's usually pretty short-lived. The Flyers are hoping it will last a little longer because as you can see, they're not where they want to be at this point.