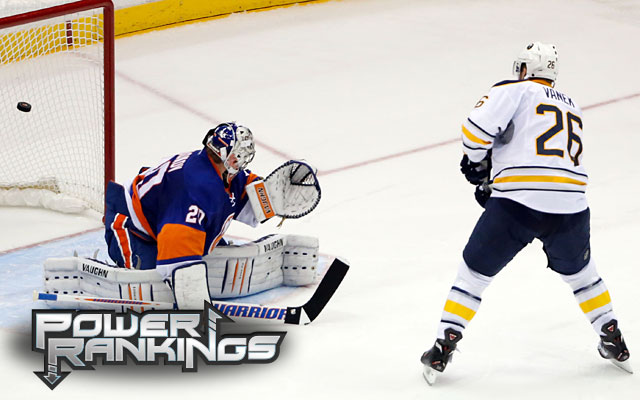 "I can tell you I'm not happy with where we are record-wise. We're better than this. I wasn't going to sit by and let games pass."
That was Islanders general manager Garth Snow talking to Arthur Staple on Sunday night after the Isles made a massive move by acquiring Thomas Vanek from Buffalo. It cost his team a pretty penny and then some -- Matt Moulson, a first-round pick in 2014 and a second-rounder in 2015 -- but getting a player with Vanek's skill level is never cheap.
For Islanders fans it must be such a nice change of pace to see the team being aggressive and getting a high-priced player to come to New York. The cost and uncertainty moving forward (Vanek is a free agent after this season) are certainly worrisome but to see the Islanders taking a swing on a huge move is such a departure from the norm for this franchise in recent years.
The question is, was it the right move? Undoubtedly the Islanders received the best player in this trade. As good as Moulson was playing with John Tavares, it's fair to wonder how much of his success was simply a product of playing with Tavares. Vanek, meanwhile, has shown he can carry a team on his own. Partnering with Tavares could be magic.
But goal-scoring hasn't been the Islanders' problem. Snow isn't happy where the team is but getting an upgrade on the wing doesn't seem like it's the answer to what ails his team. The Islanders are already in the top 10 in the NHL in scoring this season with 3.09 goals per game, tied with Pittsburgh believe it or not.
On Monday, Snow cited a lack of consistency as one of the driving forces behind the trade. Ironically the offense has been consistently good for at least two goals per game this season. The Islanders have scored at least three in five of their past six games. The offense isn't the trouble spot.
The Isles are 24th in the league in goals against, also at 3.09 per game. Their team save percentage of .896 is 27th in the league. Adding Vanek doesn't help either of those categories much, if at all.
The clear thinking behind the trade for the Islanders is that they're going for it, adding an All-Star to try and capitalize on their playoff berth last season and a weak Metropolitan Division. For that it's tough to blame them, especially with how bad they've been for years. As exciting as the prospect of Vanek on the wing is, it's fair to wonder if the Isles are really much better off for it today than they were yesterday.