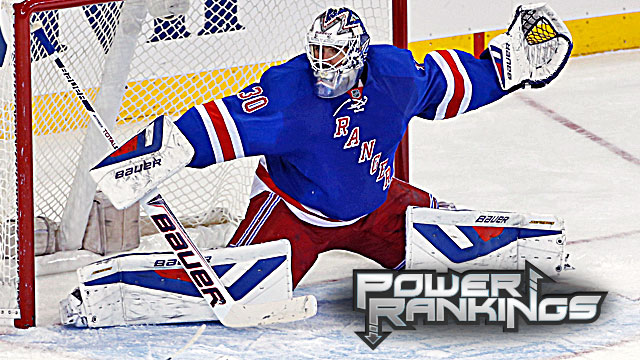 It's interesting to look back just a couple of weeks and see how things have changed.
A look outside across most of the continent would reveal the leaves have either fallen to the ground or are the brightest shades of red in preparation to fall as you'll see while the temperatures plummet. The opposite transformation has been taking place with the New York Rangers in Alain Vigneault's first season.
Remember when the Rangers were starting the season with a nine-game road trip thanks to MSG renovations and were being crushed, never more so than their 9-2 humiliation in San Jose? A 2-6 start already had some questioning if Vigneault, a proven NHL coach, would make it to the All-Star break, the Rangers looked so bad. But not anymore.
A team that was four games below .500 before New Yorkers were even learning how to spell Vigneault is now above that mid-line mark. It's easy to point to returning to their home arena and playing against Eastern teams instead of the vaunted West as reasons for the turnaround and that's more than fair. In their past six games they are 6-0 against teams from the East and 0-1 against the West. The schedule eased up.
But perhaps it's a little more than that; perhaps the Rangers have finally found their groove in a new system. That could certainly apply to the goaltending and starter Henrik Lundqvist, too. Until Florida managed to score a third goal on Sunday night, the Rangers had gone nine games without giving up more than two goals. This is the same team that allowed 20 goals against in a three-game stretch earlier this season.
This is not to say the Rangers still aren't without their warts. They looked sloppy at time against a woeful Florida team on Sunday night but the overall games have grown greatly as the team finds its new style under Vigneault. They have become a positive possession team and sound like a group that is gaining confidence.
Let's not forget that the Rangers have been making this turnaround without one of their best players in Rick Nash, who remains sidelined with a concussion. He has resumed skating and when he comes back, assuming he's the same caliber of player, the Rangers should become that much stronger in the East.
Patience is a virtue, one that isn't always found today, especially in a city such as New York. But a little patience and perseverance through an atrocious start has helped to lead to a change in the season for the Blueshirts.