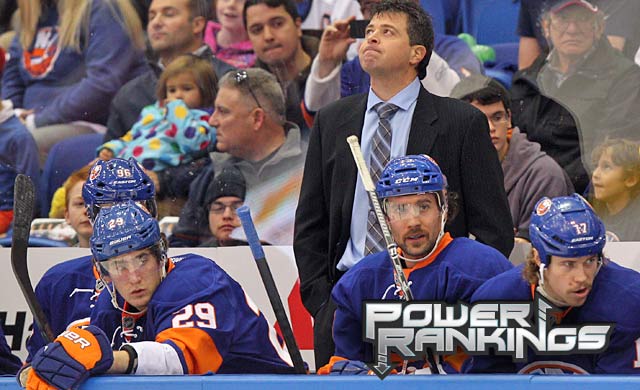 Last season when the New York Islanders earned themselves a playoff spot for the first time in what felt like a very long time, it was supposed to signal the turning of the franchise. From here on out the Isles were only going to trend one direction: up.
The team that's about to move to trendy Brooklyn is trending the other direction and in a hurry.
The Islanders have lost six games in a row and 11 of 13 overall, and in their case, that is pretty much as bad as it sounds; only one of those losses came beyond regulation. Put another way, the Islanders have earned just five of the past 26 standings points that have been available to them. In November their final mark was 4-10-1.
Figuring out the problem on Long Island isn't all that tough; the Isles are a mess on defense. It feels like just as long as the Islanders have been in the overall dumps, they've been trying to find a solid stable of defensemen, but they're still not there. They give up more goals per game (3.37) than any team in the East and have the NHL's worst penalty kill rate at only 72.7 percent. Woof.
Now that's certainly not all on the defensemen; the goalies are the last line of defense, and they aren't helping matters. Of goalies with more than one start (sorry, Anders Nilsson), Evgeni Nabokov's .892 save percentage is best on the team, better than Kevin Poulin's .887. Why the Islanders felt that this duo would be right for them this summer remains a mystery.
Oh and by the way, things are not about to get any easier for the Islanders. In the month of December they play only one game against a team that's currently not in playoff position, and that's New Jersey, which is right on the cusp. Coming up is a brutal five-game road trip through St. Louis, the three California cities and Phoenix. Now is the time to turn it around, but it would be tough for any team to have a turnaround trip through that gauntlet.
All signs point to the idea that coach Jack Capuano can't be feeling the warm and fuzzies this holiday season; the warm fire probably isn't as alluring. He didn't build the roster, but when has that ever saved a coach?
The Islanders have shown often through the years they are somewhat reticent to change partly because of taut purse strings. But considering this front office felt good enough about this team's chances earlier this season to give up a lot for a rental player in the Thomas Vanek trade, it shows the expectations were indeed raised and obviously they're not being met. Nobody feels the brunt of missed expectations more than a head coach.
Even in the Metropolitan Division, the Isles look like they've fallen too far behind to catch up, and falling out of that race isn't an easy thing to do. They are now eight points behind the third-place Rangers. For a team that showed signs of a belief it was good enough to reach the postseason, that's nowhere near good enough. Change could be coming soon, and that's never a good word for a guy like Cappy.