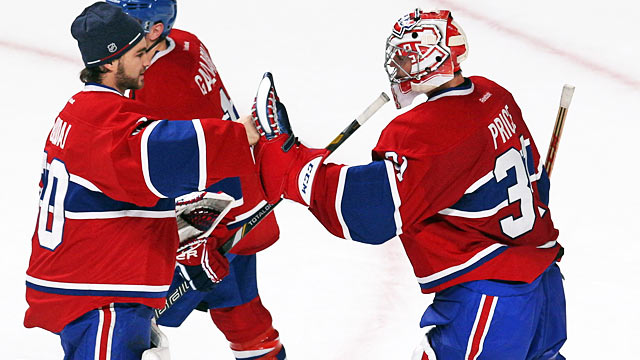 For the past few seasons there have been two teams consistently installed as favorites in the Eastern Conference: the Penguins and Bruins. There is no doubting they are beasts in the East, but there should be room at the table for another.
The Montreal Canadiens have put it all together and are playing some outstanding hockey at the moment. They have been on fire the past couple of weeks, surging up the standings to reside right alongside the Bruins and Penguins. They have points in 10 straight games, all but one of those a win.
What makes the Habs such an intriguing contender is their balance up and down the lineup. They can score goals and have point producers throughout; 12 players are already in double digits in points. A potent group has only gotten stronger with the growth of Alex Galchenyuk's game; the sophomore has eight goals and 12 assists while averaging less than 15 minutes per game. He plays that little because the Habs have talent to go around.
As good as the offense has been the other side of the coin is just as strong. PK Subban is, for some reason, oft-criticized for his defensive game. While he's not going to be called a shutdown guy in the near future, he does what you want from a defenseman, most importantly getting the puck going the right direction -- away from your net. He also leads the team in points. You don't play nearly 25 minutes per game on a good defensive team if you're a liability.
More than anything, though, it has been the last line of defense helping to make everybody else look good. That, of course, would be Carey Price, who is making a very loud and emphatic statement that he should be Canada's No. 1 goalie in the upcoming Olympics. Despite being 20th in shots against per game, the Habs are second in the NHL in goals against, only a smidge behind Boston.
Price has great numbers to accompany his 14-8-2 record, having posted a .938 save percentage and 1.95 goals against average. And there has been no dropoff to backup Peter Budaj when he has been called upon. The two have been the backbone of the team and with the support increasing in front of them, the Habs are rising. There isn't much that they don't do well.
It's always important to bring some levity to discussions and remember that teams are never quite as good as they look at their best or as bad as they do at their worst. The Habs are playing their best right now and it shows. During this run they have beaten both Boston and Pittsburgh in tight contests.
Time will tell, obviously, but the Canadiens are playing like a team that wants to make the duet atop the East outlook a trio.