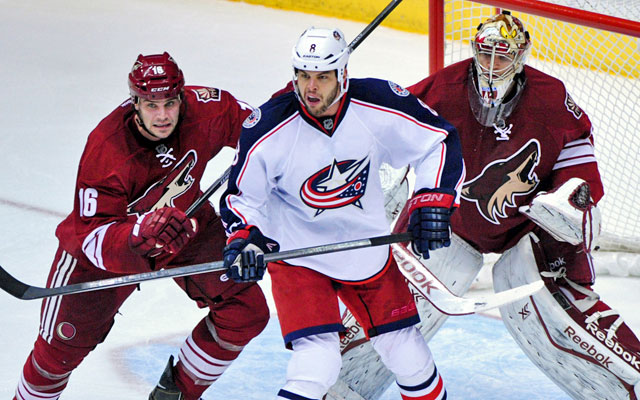 Another week, another surging team from the Metropolitan Division. It's rather amazing how the division has been handing that title off like a baton in the 4x100 lately.
This week it's the Columbus Blue Jackets' turn. Or maybe we should say this year. Since the calendar flipped to 2014 the Blue Jackets are 7-1-0 with wins in their past six. If you're looking for the coinciding link, the debut of Nathan Horton after an off-season of injury rehab would be a pretty good place to start.
Horton's first game was eight games ago when this run began. Whether or not it's directly attributable to Horton -- it's not completely but you understand -- isn't clear but the offense, which has been pretty strong all season, has gotten rolling. The Jackets have scored 23 goals in the past six games, nearly four per game. It's boosted the Blue Jackets offense to 11th in the league with 2.79 goals per game. Remember, they've yet to have Horton and Marion Gaborik healthy at the same time this season, too. Who saw all of that coming last season?
You remember last season when the Jackets, then in the West, went on a torrid finish to the season and came up just short of the playoffs, missing out because of the tie-breaker? They rode Sergei Bobrovsky until his legs nearly fell off, so apparently this season they decided to return the favor as Columbus has sagged to 19th (from ninth last season) in goals against. Put it all together and you have a team that's starting to look complete. Put it all together and you have a run like the Jackets are on right now.
This is always a somewhat dangerous game to play, but if the playoffs were to begin today, the Blue Jackets would be in with one of the two wild cards, just above the plethora of teams champing at the bit behind them.
It's not quite as though this Blue Jackets run is out of nowhere, though, giving at least some hope that the strong play can continue through the remainder of the season (not quite this strong, but strong enough). With the aid of this run, the Blue Jackets are one of only five teams in the East that have a positive goal differential this season. It's not by much (138 for vs. 135 against) but it's more than most teams in the East can say. Does that tell the whole story? Of course not, but simple reason stands that if you score more than you give up, you're doing pretty well.
The question now for the Jackets is how long they can push this current streak of hot play. They have three games at home this week starting with LA on Tuesday night but are embarking on a seven-game stretch in which they will play only two teams currently in the playoffs (LA and Philadelphia) with six of those seven at home. The opportunity is there to finish January off the way they've started and take another few steps toward finishing what they started last season.