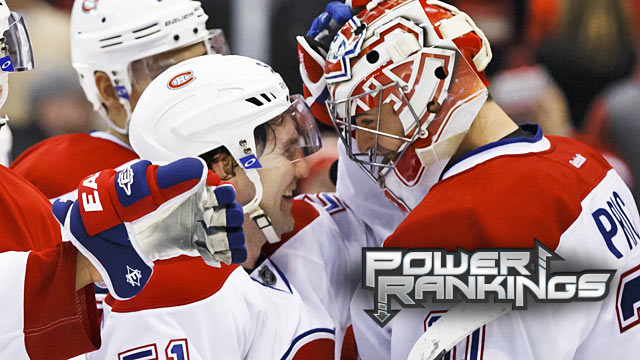 All season there has been no skirting the fact that the Western Conference is clearly the superior side of the NHL. The West is full of elite teams at the top and has cleaned up in intra-conference action.
The narrative in the East has been that it's the Bruins, maybe the Penguins, and everybody else. Perhaps, with the end of the season just two weeks away, that perception is changing at least a little.
Nobody can deny that Boston will enter the Eastern Conference playoffs as the clear favorite, especially after the incredible March the B's just had. But just maybe their path won't be as easy as once believed.
Of course you have the Penguins, who will remain a threat with the skill they possess, especially if they start returning to health. But look at two really hot teams of late -- two longtime rivals of the Bruins, the Rangers and Canadiens. Both are on tears right now, leaving no doubt they will be postseason bound.
First you have the Blueshirts, who are finally taking off as many believed they would. Hindered by a very low shooting percentage all season, the Rangers' offense has erupted lately and they're winning. A lot. All the while they are getting next to no point production from their big midseason acquisition, Martin St. Louis. If the offense has started rolling and St. Louis only has three assists in a few weeks as a Ranger, beware when he finds his comfort zone in the Big Apple.
The more immediate threat to Boston, though, comes from Montreal because should both teams win their first-round series -- that won't be a walk in the park for the Habs with the Lightning as their opponent at this point -- they will have a date in Round 2. Of the four games they played this season, the Canadiens took three. Going back to last season, the Habs have taken six of the past seven (conversely, the Bruins won all four from the Lightning this season, so it's pretty clear who they would like to see).
All of that fails to mention the challenge that a team like the Flyers could pose as well. Just look at how they played against Boston on Sunday for an idea; the Flyers weren't a pushover.
It would be disingenuous to suggest that the Bruins are going to have a road as tough as the favorites in the West because it probably still won't be close. But it's looking more and more like there will be a few teams they'll at least have to take seriously.