| | | |
| --- | --- | --- |
| | New Jersey Devils | |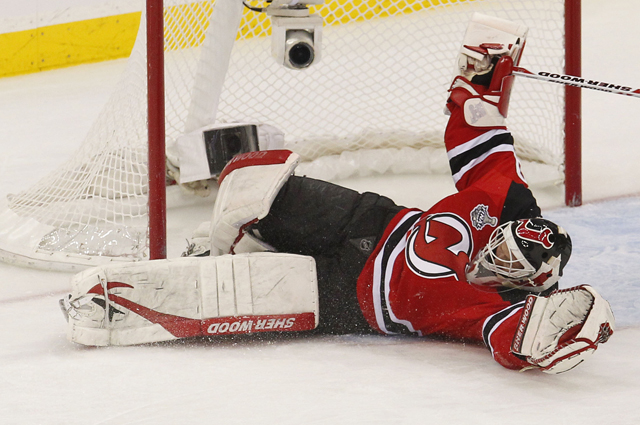 2011-12 season:
48-28-6, 102 PTS
Last season: In his debut season with the Devils coach Peter DeBoer led his team to the Stanley Cup Final where they ran into the unstoppable force that was the Los Angeles Kings, losing in six games after falling down in a 3-0 hole to start the series. At the start of the playoffs few gave the Devils much of a chance to go all the way but they exceeded all expectations and
Key offseason losses: Zach Parise, Alexei Ponikarovsky
You don't need me to tell you that losing Zach Parise hurts. He was a huge part of the Devils organization since being drafted in 2003, and the only year since then that the missed the playoffs just happened to be the year he missed most of the season due to injury. He's gone, and he's not walking back through that door. Ponikarovsky came over in a mid-season trade from Carolina and provided some solid secondary scoring and was a strong possession player for the Devils and seemed to fit in well with what DeBoer had the Devils doing. He would have been nice to keep, but his loss isn't anywhere near as significant as the loss of Parise.
Key offseason additions: Krys Barch
Yeah, there really isn't much positive happening here. Losing Parise and Ponikarovsky without bringing anything else back in is a step in the wrong direction.
Breakout player: Adam Henrique
Probably an obvious choice, and some might consider his rookie season to be a breakout year, but there seems to be even more than he's capable of. He was one of the leading scorers in the NHL among rookies last season and did so while playing tough minutes. The Devils didn't protect him and they didn't treat him like a rookie, and they were rewarded with a big-time performance in the regular season and playoffs as he scored not one, but two series clinching goals.
Player on the hot seat: Martin Brodeur, Johan Hedberg
Yes, the goalies. Brodeur had a strong playoff run, but as a pairing they were pretty mediocre during the regular season and given that they're both a year older now, and combine to make up the oldest duo in the league at ages where goalies typically don't perform well, it could be a problem spot for the Devils in 2012. Hopefully the Devils under DeBoer are able to continue controlling the puck and limiting the shots against like they did last season and in the playoffs.
Why they will succeed: Ilya Kovalchuk is still a dynamic force offensively and since coming to New Jersey has significantly improved his two-way play without having it negatively impact his scoring. Patrik Elias is still going strong and they have a young star in the making in Adam Henrique. These aren't your older brother's Devils that are going to clog up the neutral zone and play the trap. They're an aggressive, forechecking team that thrives on puck possession and rolled with that strategy all the way to the Stanley Cup Final.
Why they won't succeed: We've already been over the plusses and minuses of their offseason (they're on the minus side) but there's also the fact that they're going to be trotting out one of the oldest goaltending duos we've ever seen in the NHL with Martin Brodeur and Johan Hedberg. Yes, it was good enough last season (though, at times Brodeur was outplayed by Hedberg) but these guys are 40 and 39 years old respectively. You can count on one hand the number of goalies under contract in the NHL over the age of 35, and two of them call New Jersey home. This has to be a concern.
Realistic expectations: On paper this team has the look of a bottom seed in the Eastern Conference playoffs with a real chance of missing all together.
More 2013 NHL Season Preview