| | | |
| --- | --- | --- |
| | Buffalo Sabres | |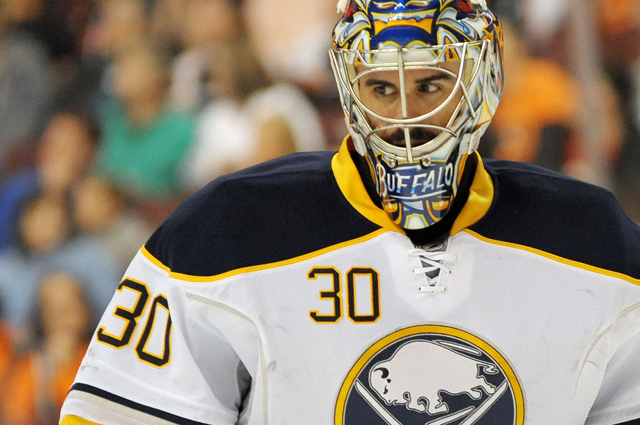 2011-12 Season:
39-32-11, 89 PTS
Last season: New owner Terry Pegula went crazy in free agency and was basically signing checks with a stamp, giving it to any free agent or player that would give him the time of day. The results? Not great. The Sabres ended up falling short of the postseason thanks in large part to a disastrous stretch through December, January, and February. They started strong, they finished strong, but the middle of the season was something to forget.
Key offseason losses: Brad Boyes, Derek Roy
The Sabres acquired Brad Boyes prior to the 2010-11 deadline and in 76 games with the team over parts of two seasons he scored just 13 goals, including eight in 65 games this past season. He never really made much of a consistent impact in Buffalo and his loss shouldn't put much of a dent in the Sabres' chances this season. The bigger offseason move was trading center Derek Roy to the Dallas Stars for agitating forward Steve Ott and defenseman Adam Pardy. Ott has some skill, and is a strong presence in the face-off circle, and also upgrades some of their toughness and gives them one of the toughest (and perhaps most annoying) players in the NHL to play against.
Key offseason additions: John Scott, Kevin Porter, Steve Ott
After spending like drunken sailors a year ago, the Sabres had a much quieter offseason this past summer only bringing in forward Kevin Porter and John Scott, the most feared and intimidating fighter in the NHL. Ott is one of the better agitators in the NHL and along with Patrick Kaleta gives Buffalo what has to be two of the most loathed players in the league.
Breakout player: Marcus Foligno
Marcus Foligno, a fourth-round pick back in 2009, was given his first taste of NHL action at the end of last season and responded with six goals and seven assists in 14 games. The Sabres protected him a bit and didn't give him many tough assignments, but that's to be expected with a 20-year-old rookie. He has a lot of speed and is an energetic player and while he may not have top-line ability, he could be poised for a nice full-season debut in the NHL.
Player on the hot seat: Ville Leino
For some reason the Sabres thought it would be a great idea to give Ville Leino $27 million over five years based on one pretty good full season in the NHL. In his first year in Buffalo he scored eight goals to go with just 17 assists in 71 games. You might also include Tyler Myers in this category based on a down year in which he regressed to the point that he was a healthy scratch at times, but Myers is still extremely young and his through-the-roof potential. Chances are he's going to get better. The same can't be said for Leino.
Why they will succeed: When Ryan Miller gets hot he's capable of carrying a team on his back (he's done at times with the Sabres, and we saw him do it for team USA at times during the 2010 Olympics). The only problem is I don't know that he does it as often as people think he does (his save percentage the past two years has been slightly above the league average).
Why they won't succeed: For a team that has what seems to be a nice collect of forwards, the Sabres were absolutely crushed last season in terms of possession, attempting just 48 percent of the shots directed at the net (shots on goal and missed shots) in close situations, one of the worst marks in the NHL. Will they be able to generate enough offense?
Realistic expectations: The Sabres have spent a lot of money putting a mediocre team on the ice. The playoffs aren't out of the question, but even then a first-round loss seems like it would be a likely result.
More 2013 NHL Season Preview