| | | |
| --- | --- | --- |
| | Florida Panthers | |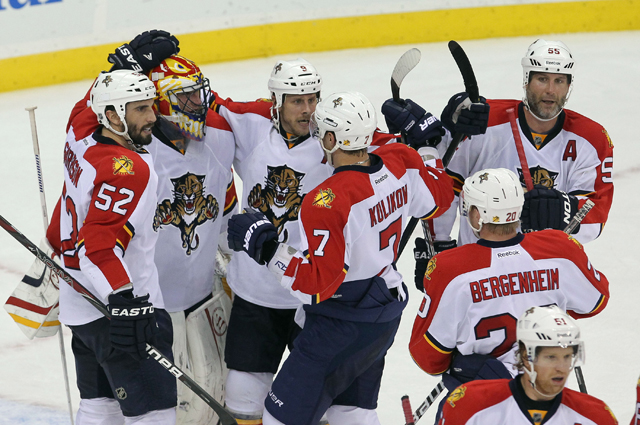 2011-12 record:
38-26-18, 94 PTS
Last season: The Florida Panthers had arguably the second greatest season in their franchise's not-so-glorious history. The team surprised the hockey world -- and many will tell you they did it with smoke and mirrors -- to win the first division title in franchise history and bring the NHL playoffs back to South Florida for the first time in more than decade. The Cats were led by the top line of Kris Versteeg, Stephen Weiss and Tomas Fleischmann; as that trio went, so did the team. But the roles played by new coach Kevin Dineen and the several other mish-mosh of players the Panthers brought in before last season were huge as well. The Panthers organization entered last season on the upswing of a rebuilding phase and they hit their stride faster than even their own GM Dale Tallon expected. Not all surprises are bad.
Key offseason losses: Jason Garrison, Mikael Samuelsson, Wojtek Wolski, John Madden
The biggest impact here, of course, is the loss of Garrison. The hard-shooting defenseman exploded onto the scene last season by busting out with 16 goals -- the majority on the power play -- and making a name for himself league wide. It was obvious how big of a factor he was for them last season. But don't think it was just the offense that made Garrison a big loss. It will be missed but he never received his due for his defensive work, something he had done well at for three years in Florida. The other losses don't hurt as bad, but perhaps Samuelsson leaving will sting a little. He helped generate some offense on the second line and was a key part of the power play for Florida after coming over early in the season in the David Booth trade.
Key offseason additions: Peter Mueller, George Parros, Filip Kuba
The big acquisition was Kuba, filling the defensive hole left by Garrison became a priority for the Panthers on July 1 when it seemed pretty clear Garrison was gone. To get Kuba from Ottawa, the Panthers had to overspend but the hope is that it will be worth it and he'll be able to fit right in with Brian Campbell on the blue line the way Garrison did. He is coming off a nice season with the Senators, but how much of that was due to playing with Erik Karlsson? Probably a lot. Campbell is no slouch but he's not Karlsson. Nor is Kuba in his prime either. How he fits in will be a big factor for Florida. Also, don't sleep on the addition of Mueller. It's a low risk/potentially high reward move for the Panthers. If he is healthy, he figures to be a big part of Florida's secondary offense.
Potential breakout player: Jonathan Huberdeau
You could make the argument that there will no player more important to Florida's chances this season than Huberdeau. The No. 3 overall draft pick two summers ago has absolutely torn up the junior ranks, he has nothing left to prove at that level. He could have made the team last season but Florida elected to go the patient route and have Huberdeau develop one more year. Now there is no denying he's ready for the NHL. He certainly has Calder Trophy potential and if he can play his way into that conversation, it likely means the Panthers are in great position. They need more offense that what they had last season and Huberdeau is their biggest "addition" in that regard. If he struggles, though, then the team might, too. It needs more scoring help for the top line.
Player on the hot seat: Jose Theodore
Perhaps the easy answer is Kuba, and he will certainly have an eye on him trying to fill Garrison's skates. But we're going to the net here and saying Jose Theodore. The Panthers' net minding duo of Theodore and Scott Clemmensen was much maligned last season largely because it lacked sex appeal, but they definitely got the job done. It's hard to argue when your goaltending is in the top 10 in the league. But if Theodore slips back to the level he was at before going to Florida, then Tallon will have some serious thinking to do. Until he is traded somewhere else, the rumors of Roberto Luongo being dealt to Florida will persist. In all honesty it's a move the Panthers probably don't want to make, they would be happy to stay with Theo/Clemmensen. It's up to Theodore to help them keep it that way.
Why they will succeed: Do the Panthers have any super studs on this team entering the season? No. Perhaps Huberdeau will become one, but he's not one yet. People can dismiss Florida's success last season all they want -- with a goal differential as bad as Florida's was, it was easy to see why they had critics -- but remember, it was the first year with a largely new team and a new coach. It's a reasonable assumption that they will get better in Year 2. They have a core of experienced players and will slowly start phasing in the future of the franchise, which is very exciting. Or, to put it another way, the Panthers won the division last season and didn't get substantially worse.
Why they won't succeed: While they didn't get substantially worse, they certainly didn't get better between last season and this. Meanwhile, the whole division seems to be better, much better, than it was last season. Relying on overtime losses to get you one point at a time won't cut it this time out. If they can't get any help for Versteeg-Weiss-Fleischmann, it's unlikely they can possibly repeat the performance of last season and there just isn't a whole lot of reason to expect the offense to pick up on the lower lines. Also, the loss of Garrison will be noticed. How well the Panthers can make up for that will be the key.
Realistic expectations: The Southeast might look better on paper but we won't really know until the season starts, so from the beginning the Panthers can't be ruled out of the race for the division crown. But they will need things to fall into place. Realistically the Panthers are probably looking at a position where they are fighting for the eighth spot in the East and trying to return to the postseason. If they don't show marked improvement from last season, they are probably on the outside looking in but they won't be in the lottery line either.
More 2013 NHL Season Preview