| | | |
| --- | --- | --- |
| | Montreal Canadiens | |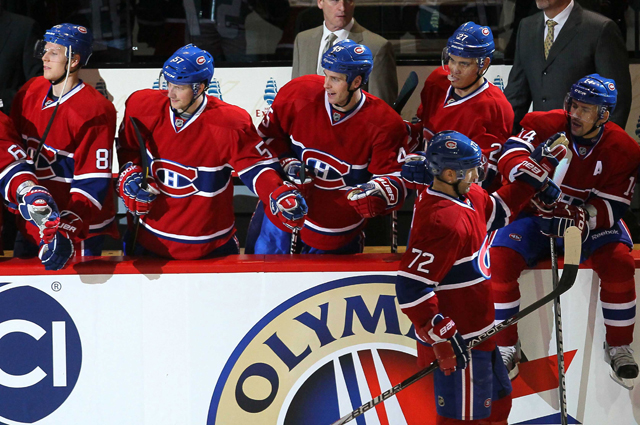 2011-12 Season:
31-35-16, 78 PTS
Last Season: Injuries on the blue line absolute destroyed this team's chances early on and the season was, for the most part, an absolute circus. Jacques Martin was fired, but not until after the team made assistant Perry Pearn its first sacrificial lamb just a few games into the season. Then when Randy Cunneyworth was named interim coach a controversy erupted due to a very vocal minority in Quebec because he didn't speak french, which is apparently more important to said vocal minority than the ability to ice a winning hockey team. This season couldn't have ended fast enough for the Canadiens.
Key offseason losses: Brad Staubitz
Move along. Nothing to see here.
Key offseason additions: Brandon Prust, Colby Armstrong, Francis Bouillon
If there was one thing the Montreal Canadiens needed this offseason, it was a four-year, $10 million contract for … Brandon Prust? That will fix everything. It's not that Prust is a bad player. He actually has some value as a bottom-six forward and energy guy that can fire up a team, but that contract is about two years too long and $5-6 million too rich. Colby Armstrong was bought out in Toronto after some injury problems and ended up joining the Canadiens.
Breakout player: Alex Galchenyuk
If he makes the team, that is. The No. 3 overall pick in the 2012 draft, Galchenyuk is loaded with offensive talent and has been a dominant offensive force in the Ontario Hockey League (when healthy, that is) over the past three years. He could be the type of offense difference-maker the Canadiens have been lacking.
Player on the hot seat: Rene Bourque
After coming to Montreal in the trade that sent Mike Cammalleri to Calgary, Bourque had just eight points in 38 games with the Canadiens. That's a 17-point pace over 82 games. It's a small sample size, but the Canadiens gave up one of their best players (even if he did want out) to get him and they still owe him over $3 million per year over the next four seasons.
Why they will succeed: They're probably a better team than they showed last season, but how much better remains to be seen. Injuries on the blue line early in the season derailed them, they couldn't seem to catch any breaks, and the whole coaching search was perhaps the biggest distraction in the NHL (and perhaps the most unnecessary). They have some talent, especially young talent on their blue line with P.K. Subban, Alexei Yemelin, and Raphael Diaz. A lot of players underperformed in 2011-12 and could be poised for a bounceback season.
Why they won't succeed: They're a pretty mediocre team offensively and will have to rely heavily on Carey Price, who they just gave a huge contract extension to this past summer. He's good, but not good enough to make up for an offense that was 20th in the NHL in goals, 20th in shots, and 28th on the power play. Especially since little was done to improve it in the offseason.
Realistic expectations: They could be better than 2011-12, but not good enough to get back into the playoffs.
More 2013 NHL Season Preview