| | | |
| --- | --- | --- |
| | Winnipeg Jets | |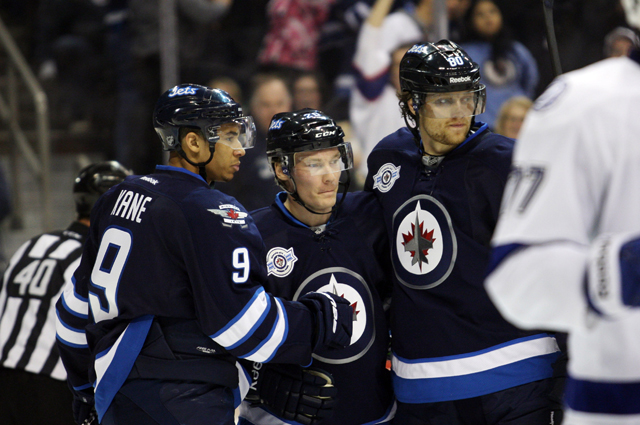 2011-12 record:
37-35-10, 84 PTS
Last season: Even though they didn't make the postseason, last season was a dream ride for the Jets in the simple fact that they were back in Winnipeg. The expectations going into the season weren't high -- they were a few months removed from being the Thrashers, after all -- but it didn't much matter, at least not in Year 1. The important part was that Manitoba had the NHL back. Things did get a bit exciting when the Jets used a long stretch of home-ice advantage to make a push in the playoff picture with a few weeks to go in the season, but they ran out of gas (and home games) to get there. Still, it was hard not to call the Jets 2.0's first season in Winnipeg a success.
Key offseason losses: Tim Stapleton, Chris Mason
As you can see, the Jets really aren't losing much from a team that gave it a good push for the playoffs. Stapleton is sort of your typical undersized overachiever but he was a bottom-line player for the Jets and his presence should be relatively easy to replace. Maybe Mason will prove to be a decently big loss for this team, but he was just the backup goaltender. However in Winnipeg that role seems to have a little more import considering the struggles of No. 1 goalie Ondrej Pavelec at times.
Key offseason additions: Olli Jokinen, Alexei Ponikarovsky, Al Montoya
When you look at the additions you can see why some are slightly bullish on the Jets this season. You can clearly point out that the Jets only got better over the summer. Montoya is probably on par with Chris Mason in the backup goaltender role and Jokinen/Ponikarovsky more than make up for what Stapleton takes with him. Jokinen is a grizzled veteran at this stage of his career but he's still producing and this was quietly one of the better signings of the summer. Winnipeg helped fill a need for a top-6 center and at a decent price. Ponikarovsky has become a hockey nomad with the Jets being his sixth team since the start of the 2009-10 season, but he's a big body on the wing who does still bring some offense to the table with 14 goals last season between Carolina and New Jersey.
Potential breakout player: Mark Scheifele
This isn't a roster that appears to have many candidates even for a breakout player, we seem to have a pretty good idea what we're getting from everybody on the roster. It seems like almost everybody has already had their breakout, especially after Kyle Wellwood destroyed his personal bests last season. So we'll elect the rookie Scheifele. The Jets' surprising top pick in the draft two summers ago, Scheifele had a cup of coffee in Winnipeg before returning to juniors last season. In the seven games he scores his first career goal, but all reports had him impressing the team in camp. If he gets a chance with the big club, he might show why the Jets valued him seemingly higher than all the other teams.
Player on the hot seat: Ondrej Pavelec
Pavelec did just sign a five-year, $19.5 million extension with the Jets, but that doesn't alleviate any concerns for the goaltending position in Winnipeg. In fact, it might only increase the pressure on Pavelec, now he's being paid as a big-time goalie, or at least an NHL average goalie. His $3.9 million cap hit is No. 16 in the league among goaltenders but his production was well below that last season. But his .906 save percentage and 2.91 goals against average don't seem to compute. Add in his offseason troubles with a DUI in his native Czech Republic (and his even worse numbers playing the Czech league during the lockout) and there is certainly some angst about the position. There isn't much the Jets can do if he is playing poorly, but he'll feel the heat if he isn't performing.
Why they will succeed: Last season provided a lot of ancillary distractions, mostly dealing with a new environment and home. It's like Atlanta is too similar to Winnipeg. But now they have had a year to get used to life in Manitoba and the better news is the home-ice advantage isn't going anywhere. The Jets are still a relatively young team so growing another year older will help the team come of age more. Winnipeg also has a player who continue to grow into an elite scorer in Evander Kane and his progression is likely only to continue after a 30-goal season. The nucleus is building slowly after a lot of down years in Atlanta.
Why they won't succeed: It starts with the back end and Pavelec. He simply has to be better, or at least more consistent. There were points last season where Pavelec carried the team and others where he left it down. If that inconsistency continues then the Jets might be up the creek without a paddle. They also need to become a better road team, unfortunately for them they can't play a disproportionate number of games at home. The roster is peppered with a few impact players here and there but the great depth still seems to be lacking.
Realistic expectations: This team against last year's Southeast Division might have had a chance to push the Panthers and Capitals a little more than they did, but against a vastly improved division, the Jets are sort of lost in the shuffle again. But realistically they should be a little better than they were last year and they were already competitive then. The division title is probably out of reach (although you never know in the Southeast) however they could sneak in to one of the bottom playoff spots. More likely, though, the Jets will probably just miss out.
More 2013 NHL Season Preview