| | | |
| --- | --- | --- |
| | Toronto Maple Leafs | |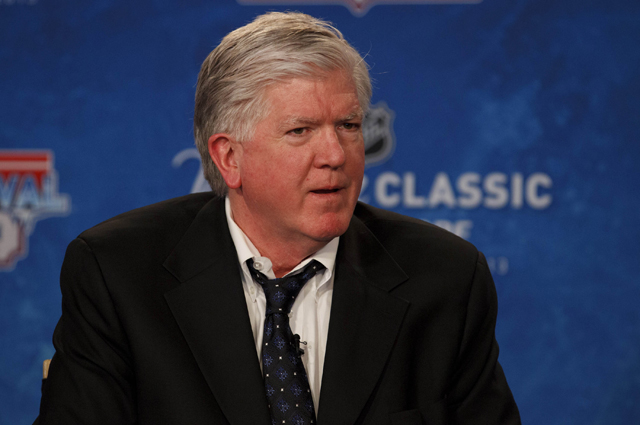 2011-12 season:
35-37-10, 80 PTS
Last season: With their seventh straight non-playoff season, and thanks to the Florida Panthers winning the Southeast Division, the Maple Leafs cemented their status as the only team in the NHL to not make the playoffs coming out of the 2004-05 lockout. That is … impressive. On the plus side, they received some really strong seasons from Phil Kessel, Joffrey Lupul and Mikhail Grabovski.
Key offseason losses: Luke Schenn, Colby Armstrong, Joey Crabb
The Luke Schenn era came to an end in Toronto on draft weekend when the former top-five pick was sent to Philadelphia for James vanRiemsdyk. At first glance this might be one of the best trades Brian Burke has made during his time in Toronto. Even both players remain at their same performance levels vanRiemsdyk has more value than Schenn, and he seems like a better bet to improve and actually reach his potential. It just never worked out for Schenn in Toronto and for Burke to get a top-six forward in return for him is a win for the Maple Leafs. Speaking of not working out, the three-year, $9 million mistake that was the Colby Armstrong experience came to a close with a buyout. Even if Armstrong hadn't gone through so many injury problems during his time in Toronto the contract still would have been a folly as it was an overpay the moment the ink dried on the contract.
Key offseason additions: James vanRiemsdyk Jay McClement, Keith Aucoin
While vanRiemsdyk is the big addition and the one that will get the most attention (and rightfully so), don't overlook the signing of Jay McClement. He's a tough, strong defensive center that should be able to help improve the Toronto penalty kill that finished last season 28th in the league at just 77 percent. And he's not costing them much in terms of cap space, either. Underrated player and a solid signing.
Breakout player: Jake Gardiner
Trading Francois Beauchemin back in 2011 netted the Maple Leafs a top-line forward in Joffrey Lupul and a top defense prospect in Jake Gardiner. Pretty strong trade for the Leafs, and in his debut season at the age of 21 Gardiner burst onto the scene with seven goals and 23 assists leading all rookie defenseman in scoring. The Maple Leafs protected him in terms of the matchups he received, but as a 21-year-old in his first taste of NHL action he played as well as you could ask. He should be poised for a bigger role and perhaps an even better performance this season.
Player on the hot seat: James Reimer and Ben Scrivens. Goaltending sabotaged this team last season and unless they swing a trade for Roberto Luongo at some point there isn't going to be much done to improve it.
Why they will succeed: They can score, and the addition of vanRiemsdyk should only add to that. Even in yet another non-playoff season Toronto finished the 2011-12 season 10th in the NHL in scoring and they actually have a pretty formidable top-six with Kessel, Lupul, vanRiemsdyk, Grabovski, and Clarke MacArthur.
Why they won't succeed: There really isn't any other way to put it other than by saying this: Have you seen this team's goaltending situation? The Leafs have been at the bottom of the NHL in save percentage for the past few years and I don't have much faith that the Scrivens-Reimer platoon will change that.
Realistic expectations: They will score a lot of goals, they will give up a lot of goals, and they will miss the playoffs for an eighth straight season.
More 2013 NHL Season Preview