| | | |
| --- | --- | --- |
| | New York Islanders | |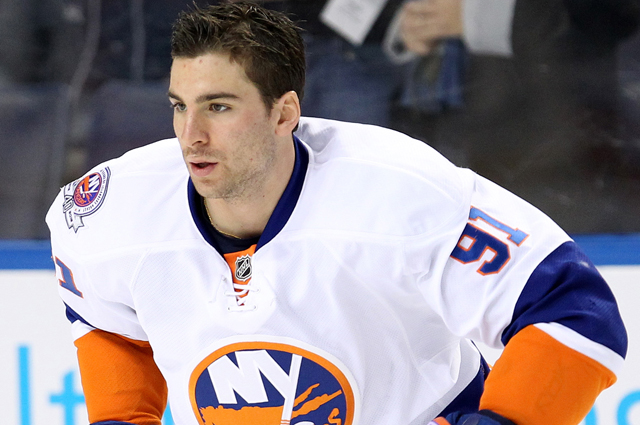 2011-12 season:
34-37-11, 79 PTS
Last season: More of the same on Long Island and yet another fifth place finish in the Atlantic Division, the fifth in a row for this once proud franchise.
Key offseason losses: P.A. Parenteau, Al Montoya
P.A. Parenteau had some really nice seasons with the Islanders and turned that production into a long-term contract with the Colorado Avalanche, though it wouldn't be unfair to say a lot of that success came from playing on a line with John Tavares and Matt Moulson.
Key offseason additions: Brad Boyes, Lubomir Visnovsky, Matt Carkner
The Islanders are hoping to catch lightning in a bottle with Brad Boyes in the hopes that he might rediscover some of the goal-scoring magic he had in St. Louis a few years back. He'll get an opportunity to replace Parenteau on a line with Tavares. There is nothing wrong with a team like the Islanders taking a shot on a guy like Boyes, especially given the price ($1 million). Lubomir Visnovsky is coming off a down year but he's just one season removed from being the top scoring defenseman in the NHL and gives the Islanders another much-needed veteran presence on their blue line to go with Mark Streit.
Breakout player: Ryan Strome
Another of the Islanders' recent lottery picks, Strome has some incredible puckhandling ability and offensive talent. He's dominated the Ontario Hockey League offensively and could potentially be one of the Islanders' most exciting players, even as a rookie, if he's able to crack the lineup.
Player on the hot seat: Nino Niederreiter
The former top-five pick has struggled mightily in his brief NHL action, scoring just two goals in over 60 NHL games. In 55 games last season he recorded just one point (a goal) and finished as a minus-29 while getting outshot and outchanced.
Why they will succeed: John Tavares is becoming the star he was supposed to be when the Islanders selected him No. 1 overall. They also have perhaps the most underrated player in the NHL in Frans Nielsen, a superb shutdown center that not only excels defensively, but also provides a little bit of offense. Locking him up to a new contract at a good price is one of the best moves Garth Snow has made during his tenure as general manager. Evgeni Nabokov is still good enough in net to give them a chance on most nights.
Why they won't succeed: It's the same story as it always is for the Islanders. There is some real reason for optimism with some of the young talent on the roster, but there's not enough of it right now and they're in the wrong division in the Eastern Conference with too many tough teams ahead of them.
Realistic expectations: There are still reasons for optimism for the Islanders, especially now that they have their long-term home settled in Brooklyn and will remain in the New York area. But for the 2012-13 season this looks like a team destined for a sixth consecutive last place finish in the Atlantic Division and another draft picking in the top-10.
More 2013 NHL Season Preview