| | | |
| --- | --- | --- |
| | Vancouver Canucks | |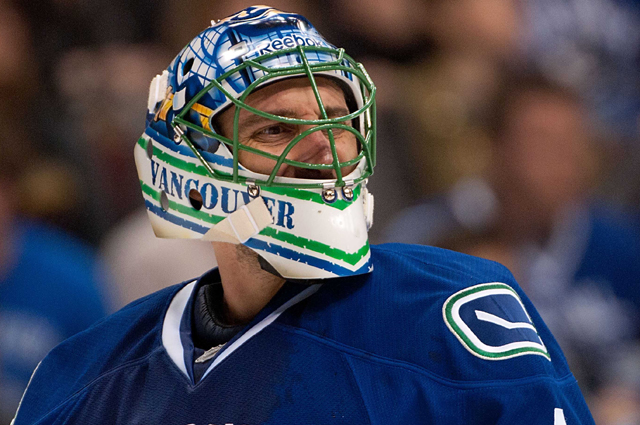 2011-12 record:
51-22-9, 111 PTS (Presidents' Trophy)
Last season: It was another example of what we have come to expect from the Canucks: they were the best team in the regular season. That was the case even with an injured Ryan Kesler and the down numbers that came along with that. The biggest development in their quest to head back to the Stanley Cup Final was the emergence of Cory Schneider, who split the starting duties with Roberto Luongo in net and then usurped the former Vezina candidate down the stretch and into the postseason. But that postseason ended very quickly with a five-game loss to the eventual champion L.A. Kings. It was seen as a massive disappointment to bow out as an 8 seed but as the playoffs wore on it became more evident what the Canucks had run into; a buzz saw.
Key offseason losses: Sami Salo, Aaron Rome, Samuel Pahlsson
The Canucks did say goodbye to a couple of defenseman in Salo and Rome, but you figure that's nothing that will be impossible for them to make up for, particularly with their big offseason signing. In the case of Pahlsson he was more or less a rental, acquired at the trade deadline from Columbus for very little in return. But with Manny Malhotra still in Vancouver, the loss doesn't sting. Of course we should very soon have Luongo's name mentioned here too but as of now Luongo is still with the Canucks.
Key offseason additions: Jason Garrison
GM Mike Gillis was expected to be quiet and he was, except for this one big signing on the first day of free agency. Garrison blossomed with the Panthers last season and found himself as one of the hottest commodities on July 1. The Canucks always had the inside track as Garrison made it pretty clear that he wanted to either stay in Florida or head back home to British Columbia. The Panthers chose not to pay him the big bucks but Vancouver did, signing him for six seasons at $4.6 million per season. Some see it as a big gamble as Garrison screams one-hit wonder to many, but the stance here is that it's a home-run signing. Garrison's offensive numbers might not have been there before pairing with Brian Campbell, but his defensive presence was strong and his advanced metrics showed a solid player for a couple of seasons.
Potential breakout player: Jannik Hansen
You could certainly argue that Hansen has already had his breakout but I believe there is more. Playing a full 82 games last season, Hansen had 16 goals with 23 assists, nice numbers to be sure but the 26-year-old can give more, particularly with this kind of talent around to help him get there. Another youngin' to keep an eye on is Chris Tanev on defense. He got his taste of the NHL last season in 25 games and suited up for all five playoff games as well.
Player on the hot seat: Roberto Luongo
Of course he tops the list, he has been the pressure player in Vancouver for some time now. It's a foregone conclusion that Luongo is headed out at some point, it's just whenever Gillis gets the price he wants. The fall from grace really began in the playoffs in the 2011 postseason and it continued with Schneider's excellent tending. If you think Luongo is too easy of an answer then there's always Keith Ballard, who still has three seasons left on his bloated contract that pays him $4.2 million per season. What wouldn't be good, though, is if Ballard did this again and took care of both these birds with one stone.
Why they will succeed: They are the same elite team they have been and they have seen plenty of success in recent years. Last season they were in the top five in the league in both goals for and goals against. There is terrific talent up and down the forward lines and it continues with a strong defensive corps led by Alex Edler and now with Garrison all to be topped off with one of the game's best goalies in Schneider (yes, he's already in that conversation). Plus they play in a division that might be getting better but is still not the strongest one you'll find in the league. What's not to like about this team?
Why they won't succeed: Frankly, it's hard to see anything that's going to hinder this club. As always they will face heavy expectations and there are some that believe that weighs them down but that isn't a factor until at least the postseason (if you even accept it as a factor at all). The distraction of the Luongo situation could be considered but the way he and the team have handled it has made it as small of an issue as possible.
Realistic expectations: They are on the short list of true Stanley Cup contenders, that can be said without hesitation. They have been so close with their Game 7 loss to the Bruins two years ago and as long as this core group is still around (see: Daniel Sedin and Henrik Sedin, Alex Burrows, Kesler, Edler, etc.) and those guys are in their primes, the Cup will be the team's one and only goal. We can safely say the fans in Vancouver are expecting this year to finally be the year.
More 2013 NHL Season Preview