| | | |
| --- | --- | --- |
| | St. Louis Blues | |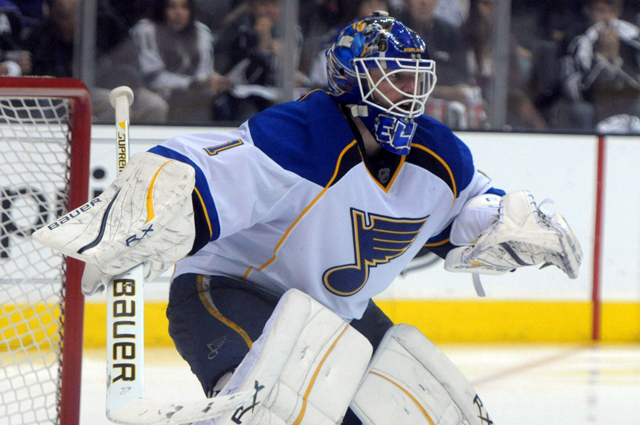 2011-12 season:
49-22-11, 109 PTS
Last season: David Payne was relieved of his coaching duties after 13 games paving the way for Ken Hitchcock to come in. From there, the Blues were pretty much unstoppable in the regular season and went on an incredible 43-15-11 run to finish the regular season, winning their first division title since 1999-00. They easily dispatched the San Jose Sharks in round one but ran into the buzzsaw that was the Los Angeles Kings in round two. It was a disappointing end to what was a pretty incredible season.
Key offseason losses: Carlo Colaiacovo
Carlo Colaiacovo made up half of St. Louis' top defensive pairing for most of the season playing alongside Alex Pietrangelo. As a pairing they were pretty impressive, though Colaiacovo didn't fair anywhere near as well when he wasn't on the ice with Pietrangelo.
Key offseason additions: Jeff Woywitka, Andrew Murray
Just a couple of depth signings. Nothing more or less than that.
Breakout player: Jaden Schwartz
The former first-round pick is probably known more for his playmaking and passing than his ability to fill the back of the net, but scored a goal in each of his first two NHL games during the 2011-12 season. He has great potential as a playmaker and puck distributor and averaged nearly an assist per game at the NCAA level over the previous two seasons.
Player on the hot seat: Patrik Berglund
It was not a great season for Berglund as he finished with just 38 points and often times found himself chasing the play in the defensive zone and getting outshot more than the rest of his teammates. He also had an incredibly hard time hitting the net, missing on more of his shot attempts than all but one other player in the NHL despite taking some of the closest shots in the league.
Why they will succeed: They've had a great young core of talent for several years now and last season everything finally started to come together. Hitchcock has a reputation for being a great defensive coach, and his teams are always tough to score against, but his teams are almost always great possession teams and the Blues were one of the best teams in the league last season at controlling the play, a good indicator for future success.
Why they won't succeed: Brian Elliott and Jaroslav Halak were outstanding last season and performed better than even the most optimistic Blues fan could have hoped at the start of the season. But their numbers, especially the unheard of and out-of-nowhere .940 save percentage Elliott produced, are not sustainable. Keep in mind that just one year earlier Elliott's save percentage was just .894, and for his career is just .909. These guys will regress this season. Not enough to knock them out of the playoffs, but we already saw Elliott struggle in the playoffs helping to end their postseason run in round two.
Realistic expectations: The expected regression from Elliot and Halak will knock a few points off of them in the standings, but with their talent and the coaching of Hitchcock they're primed for another run at the Central Division title.
More 2013 NHL Season Preview