| | | |
| --- | --- | --- |
| | Los Angeles Kings | |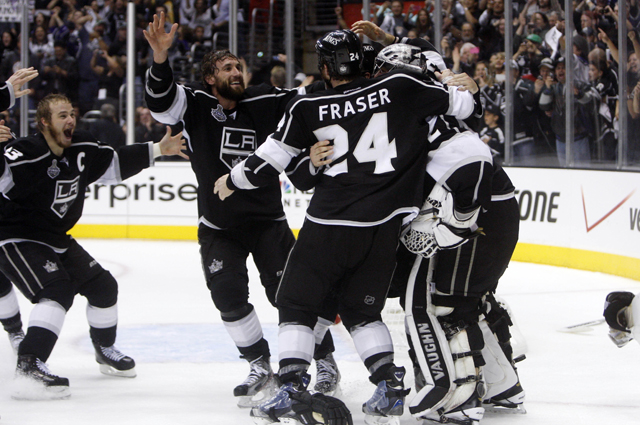 2011-12 record:
40-27-15, 95 PTS (Stanley Cup champions)
Last season: Last season was a roller-coaster ride that ended in the greatest way possible. The Kings all season long struggled to score, they were carried by Jonathan Quick but were floating in the land of mediocrity. Midseason they fired Terry Murray and eventually replaced him with Darryl Sutter and at the trade deadline they acquired some more firepower in Jeff Carter. Still, they struggled to the finish and snuck into the playoffs as the No. 8 seed in the West. Then they absolutely took off, showing a dominant force rarely seen in the playoffs and romped their way to the first Stanley Cup championship in team history. By the end they were an unbeatable force, a buzz saw. Finally, all the potential of this team had been reached.
Key offseason losses: Nobody
If you were GM Dean Lombardi, would you want to let anybody go from a team that just ran to the Stanley Cup? I didn't think so. There actually weren't a lot of players that were up for a new contract so there wasn't a whole lot that Lombardi had to do, but he re-signed all of his guys. And of course when you're the champs you don't really need to look for upgrades -- particularly when your team is so young -- so they didn't trade anybody away over the offseason. They're all still there.
Key offseason additions: Nobody
As you can see above, the Kings were quiet this offseason, perhaps Lombardi was too busy soaking in the glory of his team's accomplishment. With how the team was clicking on all cylinders from the first line to the fourth, there was no need to bring in any new bodies. Things were obviously working.
Potential breakout player: Slava Voynov
Voynov got his first taste of the NHL last season and it was tasty. The rookie from Russia played in 54 regular-season games and put up 8 goals with 12 assists, definitely not bad for a first-year defenseman. Now with a season (and postseason) under his belt, Voynov should be ready to throw his name into a growing class of excellent young defensemen in the league, including his teammate Drew Doughty. He might not be in that group's class yet, but he might take a big step in getting there. We also would have accepted Dwight King, who had a very strong postseason.
Player on the hot seat: Dustin Penner
Penner's seat has been hot for some time in Los Angeles. The expectations were high but the production was low, very low. He just wasn't meeting his potential (or his contract). Then as the year came to a close, just like the rest of his teammates, Penner found another level. The most memorable moment was his series-winning OT goal in Game 5 against the Coyotes to send the Kings to the Stanley Cup Final. His playoff push was enough to get him a one-year extension with the Kings, albeit at a lower price tag. The pressure will still be on him to perform and he'll be playing for another contract.
Why they will succeed: Well, they're still the same team from last year, right? Yup, we already covered that. It took a little time but eventually they found the right mix of everything under Sutter, so reason stands that they have it figured out and can pick right back up where they left, right? Perhaps, although it would be asking a lot for those performances to be sustained longer. But it was definitely not a fluke. Further, does the lockout help any team more than the champs? The Stanley Cup hangover is often dismissed, but I believe it does play a role in that it significantly shortens the offseason for the champs. With the lockout delaying the season, though, the Kings should come in plenty refreshed. That's not good news for the Western Conference and Pacific Division.
Why they won't succeed: It's honestly tough to see why but we all know it's so hard to repeat as champions in hockey. The question we'll have to wait and see is if things just all clicked and they played above their heads at the end of last season or not, and we're speaking primarily of the offense. Jonathan Quick is one of the absolute best in the game but could he prop the team up through another season of low-scoring hockey should that happen again? Probably, but it would be tough.
Realistic expectations: Going into the season you figure a playoff spot is a given for this team and they come in as favorites in the competitive Pacific Division. From there they will absolutely be one of the contenders for the Stanley Cup. Remember, the team that won last season was still an awfully young group as a whole so it's not like they are at the end of their window and you can forecast a decline. A repeat is absolutely within the realm of expectations for this team; the sky's the limit.
More 2013 NHL Season Preview