| | | |
| --- | --- | --- |
| | Detroit Red Wings | |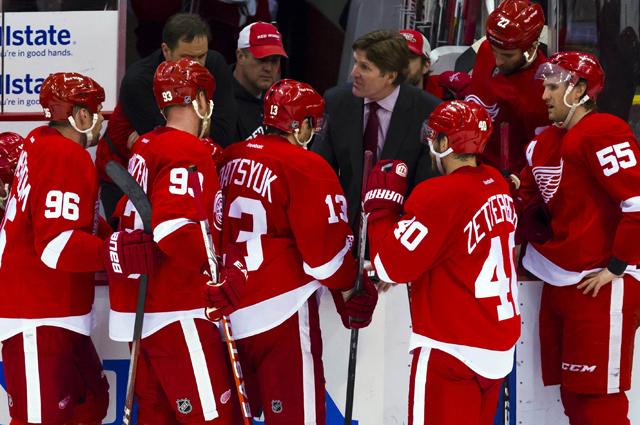 2011-12 season:
48-28-6, 102 PTS
Last Season: There were some concerns early in the season when the Red Wings lost six consecutive games but they finished with their 12th straight season of at least 102 points.
Key offseason losses: Jiri Hudler, Brad Stuart, Nicklas Lidstrom
Jiri Hudler had a career year for the Red Wings and was given a big pay raise by the Calgary Flames. Even if Hudler had returned there's a good chance he wasn't going to duplicate his 25-goal season as it was aided by a shooting percentage that came in at nearly 20 percent, seven points above his career average. Regression to the mean will not be kind to him in Calgary. The defense continued to get a makeover thanks to the retirement of future Hall of Famer Nicklas Lidstrom and Brad Stuart's free agent rights being traded back to San Jose.
Key offseason additions: Jonas Gustavsson, Jordin Tootoo, Damien Brunner, Mikael Samuelsson, Carlo Colaiacovo
The Red Wings went back to the European free agency well and brought in Damien Brunner. They didn't have much success with Ville Leino or Fabian Brunnstrom in recent years, but there's little risk involved with these signings and Brunner certainly has some ability. Mikael Samuelsson re-joins the Red Wings after spending a few years in Vancouver and Florida. Some of his best seasons in the NHL came with the Red Wings but at 36 he's not the same player he was back in 2007-08 and 2008-09 when he was helping the Red Wings reach the Stanley Cup Final. Carlo Colaiacovo was part of the Blues' top defensive pairing last season but struggled when he was separated from Alex Pietrangelo. He's not going to be playing alongside somebody that talented in Detroit this season. After being annoyed by him for years as a member of the Predators, the Red Wings will get to experience Jordin Tootoo and his style of play from the other side.
Breakout player: Brendan Smith
He's probably going to have to be. The Red Wings defense has taken some major hits in recent years and with little being done to improve it from the outside. Smith is one of the Red Wings top prospects and he's probably going to get some trial by fire in the NHL this season. He played extremely well in his limited action last season, appearing in 14 games while receiving some sheltered minutes. The Red Wings may not be able to protect him as much this season due to the makeup of their blue line.
Player on the hot seat: Dan Cleary
After having a career-year in 2010-11 Dan Cleary came back last season and had reality take a bite out of him. As it turns out, that 14 percent shooting percentage he had in the previous season wasn't really sustainable.
Why they will succeed: They still have Pavel Datsyuk and Henrik Zetterberg, and as long as you have those two guys you're going to have a chance. Jimmy Howard has become a really good goaltender, and for all of their flaws they are still one of the most dominant possession teams in the NHL.
Why they will not succeed: Plain and simple, it's the defense. What was once the strength of the team is now its biggest weakness and there are a lot of questions that need to be answered. Over the past two years they've lost Nicklas Lidstrom, Brian Rafalski, and Brad Stuart and replaced them with youngsters from within the farm system and Ian White and Carlo Colaiacovo. That's a pretty big drop in talent.
Realistic expectations: They're getting older, but we've been saying that and hearing it for years. They're not the force they once were but they're still a top Western Conference team, though with that defense they're not close to a Stanley Cup.
More 2013 NHL Season Preview