| | | |
| --- | --- | --- |
| | Dallas Stars | |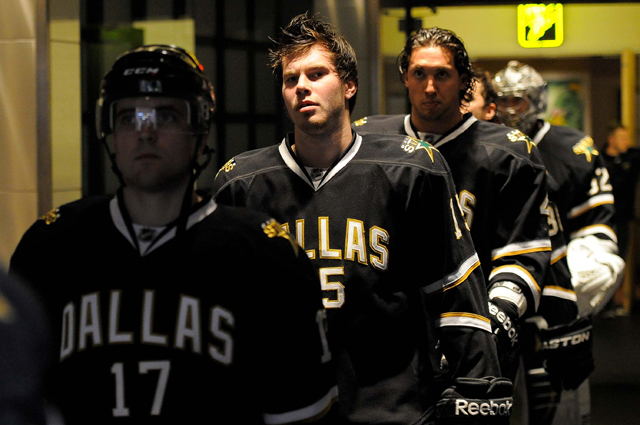 2011-12 record:
42-35-5, 89 PTS
Last season: The Stars started relatively strong after they found a strong line of Jamie Benn, Loui Eriksson and Michael Ryder but they couldn't keep it up in a very competitive division and conference. Dallas had just too little too late and couldn't quite keep up in the Pacific Division despite flirting with a return to the playoffs almost to the very end. It was another case of the Stars coming up just short. But last season also brought forth a new level of excitement when the franchise turned over the ownership keys out of the mess that was Tom Hicks to Tom Gaglardi. It didn't translate last season but the hope is that it will transform the franchise going forward, particularly with a growing young nucleus taking shape.
Key offseason losses: Mike Ribeiro, Steve Ott, Sheldon Souray, Adam Burish
The biggest name on the list would be Ribeiro, who the Stars sent to Washington. Ribeiro might have taken his fair share of criticism throughout his NHL career, but he put up numbers in Dallas. The Stars can't just replace his 18 goals and 45 assists in 74 games too easily. They also dealt away Steve Ott, a solid third-line center who was particularly good in the faceoff circle. Then there's Souray, who rediscovered his career with a one-season shot in Dallas. He was certainly a boon for their blue line but he played well enough to garner interest and headed to Anaheim in the offseason. The parts missing in Dallas are certainly worthwhile losses.
Key offseason additions: Jaromir Jagr, Ray Whitney, Derek Roy, Aaron Rome, Cody Eakin
Presumably, they are at least matched by the gains, if not exceeded. The Stars came out of left field and signed Jaromir Jagr after they inked a two-year deal with the very productive Whitney despite his status of being over the hill in age. The two veterans do a lot for the franchise in many regards. In addition to simply raising the profile of the team (Jagr will do that for you) they add a strong veteran presence and, oh, they can still play. All of this goes without mentioning the acquisition of Roy in the trade for Ott. He had run out of favor in Buffalo with a down stretch but we know he can play and put up points despite being undersized and he will help fill the void at center left by Ott and Ribeiro. Rome might not be the biggest blue line addition but he can help fill out the corps led by Alex Goligoski.
Potential breakout player: Philip Larsen
One reason the Stars could let Souray go without much of a fight is because of the growing potential for young, in-house help on the blue line that might be ready for a bigger role. At the top of that list is Larsen. A fifth-round pick in the 2008 draft by the Stars out of Denmark, Larsen got his first true taste of the NHL last season, playing 55 games with 3 goals and 8 assists. Coach Glen Gulutzan probably won't be counting on top-pairing stuff from Larsen but if he plays a full 82 games and continues to grow, he could start to make a name for himself as a blue-line mainstay in Dallas. Another one to watch is Cody Eakin, who came over in the Ribeiro trade. If the Stars give him an earnest amount of ice time, he can surprise some based on the flashes he showed with the Caps.
Player on the hot seat: Brenden Morrow
It wasn't long ago that Morrow was the unquestioned leader of this team but he's coming off a very down year. The first-round pick back in 1997 by the Stars, Morrow has had some awfully good years while his body has taken a pounding. But last season at age 33 he played in just 57 games and had only 11 goals and 15 assists, far behind his 33-goal, 23-assist campaign in 2010-11. Morrow is in the final year of his contract and is certainly no spring chicken any more. Everybody, including GM Joe Nieuwendyk, will want to see some bigger numbers and more games (on a proportionate basis, of course).
Why they will succeed: There is plenty of building excitement around this team at the moment. The duo of Benn and Eriksson is one of the better young pairings you'll find in the league and they made Ryder feel right at home. By adding Roy, Jagr and Whitney, they have two very formidable lines at the top and an improving back end. Kari Lehtonen reminded us all last season that when he's healthy, he's pretty good in goal. The problem is staying healthy, which he again struggled to do a bit last season. Perhaps the shorter season will help his durability from beginning to end (assuming a truncated season doesn't put too much stress on him).
Why they won't succeed: The Stars are playing a somewhat challenging game by infusing a bunch of talented players into a young and growing core. First off, you never can be sure how they will mesh, both on the ice and off. There will also be some injury concerns not only among those new forwards but they will remain in net with Lehtonen. The defense was the stronger of the two sides last season and it figures to get a little better with another year as the players continue to grow.
Realistic expectations: Despite all of the roster changes, the Stars are probably going to find themselves in a similar spot to the one they were in last season, right on the edge of the playoff picture. They have been close in recent seasons only to come up just short and whether they get in or not this season, the likely truth is that they will be in the middle of the Western Conference pack. Getting back to the postseason and letting Benn and Eriksson get the spotlight they so deserve would be a good goal.
More 2013 NHL Season Preview