| | | |
| --- | --- | --- |
| | San Jose Sharks | |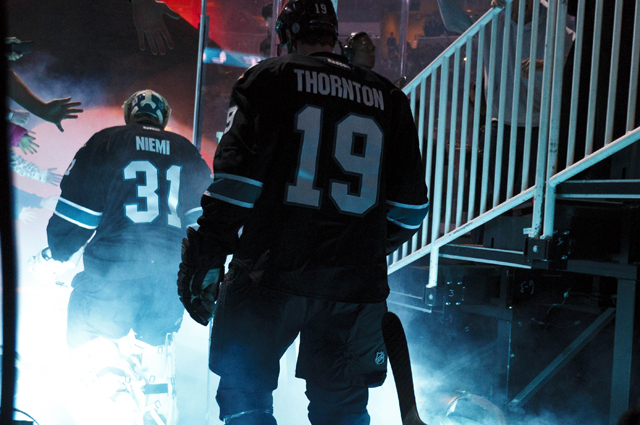 2011-12 record:
43-29-10, 96 PTS
Last season: For the first time in what felt like forever, the Sharks actually took a step backward. Their run of four straight division titles came to an end, albeit by just one point. But in the end it looked a little closer than it was thanks to seven wins in their final 10 games. There was a time when it looked like the Sharks were going to miss the postseason completely but they did sneak in before they were promptly trounced by the St. Louis Blues. Overall it is a bit hard to see where things went wrong. The Sharks were 13th in the league in goals for and eighth in goals against. Based on those numbers -- not outstanding but obviously in the upper half of the league on both sides -- you wouldn't expect it was such a struggle for them. What disguises the issue a little was a power play that was second in the league. At even strength, the Sharks were just 17th in the NHL in scoring. Oh, and that penalty kill, It was the second worst. It didn't feel like a typical Sharks season but they still reached the postseason.
Key offseason losses: Daniel Winnik, Dominic Moore, Torrey Mitchell
Frankly, they didn't lose a whole lot of significance. Moore is an excellent faceoff man and a good guy to have on your third line but it's not like he's irreplaceable. The same can be said for Winnik, who was only in San Jose for a few months, coming over from the Avalanche at the trade deadline. It's certainly not like they said goodbye to Jumbo Joe Thornton in the offseason or anything.
Key offseason additions: Adam Burish, Brad Stuart
Stuart wanted to return to San Jose and he got exactly that when the Sharks acquired his rights before free agency via trade with the Detroit Red Wings. It's no doubt a welcome return on both sides as Stuart does nothing but help a pretty good-looking defensive corps for the Sharks. Burish signed with the Sharks after spending last season with Dallas and his job will be to fortify the fourth line. One other addition that didn't make the list above but will be huge is adding Larry Robinson to the coaching staff. The former Devils assistant is a defensive specialist and he'll be charged with fixing the awful PK unit.
Potential breakout player: Tommy Wingels
Frankly, there aren't a whole lot of players here who we don't know all about at this point. I'd be inclined to say Joe Pavelski, but only because it feels like he doesn't get the respect he deserves across the league. So we'll go with Wingels who, like Pavelski, was a late-round pick out of the college ranks by the Sharks. Wingels went in the sixth round out of Miami. He only played in 33 games for the Sharks last season thanks to injuries, posting 3 goals and 6 assists. The Sharks would like to get more production from their bottom lines and Wingels could help make that happen with a solid two-way game and good speed, something the Sharks could definitely use more of (really, who can't?).
Player on the hot seat: Antti Niemi
For so long the missing piece in San Jose seemed to in net where Evgeni Nabokov was good, but just not good enough. That's why they went out and made a big commitment to Niemi but he's been just OK in San Jose; nothing more, nothing less. He isn't really in danger you wouldn't think of being sent out of town -- he's on the cap for the next three seasons at $3.8 million per -- but he has become a target for some fans' anger, replacing Patrick Marleau for some in that category. He could, though, feel some heat from backup Thomas Greiss, who was very solid in the No. 2 role last season behind Niemi.
Why they will succeed: The top six is still very strong. Perhaps a few of them are at the end of their primes but you wouldn't know it yet based on their numbers. Taking a top six of Joe Thornton, Patrick Marleau, Joe Pavelski, Logan Couture, Ryan Clowe and Martin Havlat is not a bad deal. You could certainly do a lot worse than that up top, that much is certain. Not to be outdone, the defense looks outstanding with Stuart, Dan Boyle, Marc-Edouard Vlasic and Brent Burns in the top two pairings before you even get to Douglas Murray on the third pair. The core of the team that has been in the mix for so long is still there, no reason to assume they'll slip or won't rebound a little even.
Why they won't succeed: We hate to bring up injuries because that's the case for every team out there, but Havlat's health is and will always be a concern. He is the NHL's version of Samuel L. Jackson's character in the horrible movie Unbreakable; he seems to get hurt at the drop of a hat. The penalty kill needs a lot of work -- 29th out of 30 in the league won't cut it -- and if Robinson can't get that straightened out they will have problems. Maybe the biggest impediment to success for the Sharks could be the heavy reliance on the top two lines. Some of them are up there in age at this point and getting so much ice time could wear them down, though the shorter season should help mitigate that.
Realistic expectations: The expectations are probably being tempered a little bit compared to where they have been for years -- which was to reach the Stanley Cup Final -- but they are still going to be high. Making the playoffs in the middle of the Western Conference pack is certainly attainable and, perhaps the Pacific will be back in play if the Kings don't take it. Remember, they finished second by only one point in the Pacific last season. San Jose could be a threat to reach the second round but anything beyond that is getting ahead of ourselves. It could happen, sure, but it shouldn't be the expectation.
More 2013 NHL Season Preview