| | | |
| --- | --- | --- |
| | Phoenix Coyotes | |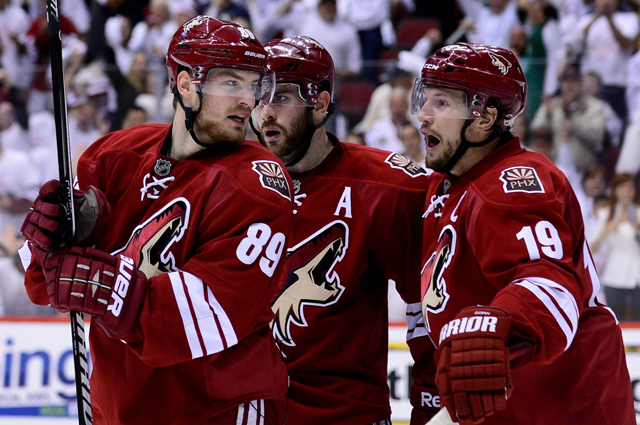 2011-12 record:
42-27-13, 97 PTS
Last season: Last season went just like the previous two under Dave Tippett; the Coyotes were expected to be near the bottom of the Western Conference and again they defied the critics and not only made the playoffs, but won the Pacific Division. Things became even more amazing when they ran through the Blackhawks and Predators to the Western Conference finals, the first time they had won even one playoff series since moving to the desert. It was a banner year, and a resurgent one for goaltender Mike Smith. It wasn't always pretty by any means, but by the end it was as close to a Picasso as those late 90s jerseys.
Key offseason losses: Ray Whitney, Michal Rozsival, Adrian Aucoin
Very clearly the big loss here is Whitney. He may be over the hill in terms of age but you couldn't tell from watching him on the ice. The veteran still has plenty of good hockey left in his skates, evidenced by his team-high 79 points last season. In addition to the offense, Whitney had a lot of the intangibles you love your veterans to possess such as leadership and the fact that he's "been there before." Replacing Whitney is definitely no easy task but the Coyotes seem to replace top players with less-heralded ones and they don't skip a beat. Losing Rozsival and Aucoin shouldn't be undersold, they were both key parts of a strong defensive unit.
Key offseason additions: Zbynek Michalek, David Moss, Steve Sullivan
While it's not likely they are getting the replacement for Whitney's offensive production from this group, there is some potential. Michalek returned to the desert thanks to a draft-day trade from the Penguins. He'll come in and fit right into the defensive picture for the Coyotes, helping to fill the void left by the above mentioned defensemen. Sullivan seems like a pretty typical Coyotes player; he's a veteran who isn't flashy by any stretch but he gets the job done and will give you some decent offensive numbers. Moss is the wild card. He has been injury-plagued in his NHL career with the Flames but when he's healthy, he's been a good guy to have on the ice. If he is able to stay in playing condition, it could be another under-the-radar strong signing from Don Maloney. If not there isn't too much risk from the Phoenix standpoint.
Potential breakout player: Mikael Boedkker
The Coyotes are one of those teams that don't seem to have many guys in the equation who haven't already broken out. Oliver Ekman-Larsson just made his talent known across the NHL last season, the same can be said for Mike Smith in net and even Radim Vrbata up front. Perhaps Boedker has already shown the level of player he will be -- he's had 11 goals in each of the two seasons he played close to a full season -- but he's still in his early 20s and there's no reason he can't reach some new heights.
Player on the hot seat: Raffi Torres
This one should be largely self-explanatory. Torres is going to miss the first eight games as he finishes the suspension that was handed to him during the playoffs after his hit on Marian Hossa. Torres felt the wrath of Brendan Shanahan multiple times last season and he has to be at the top of the discipline czar's watch list. We all know Shanahan loves him some repeat offenders. So not only is Torres going to have that pressure to try and change his game to come more within the lines of today's rules, but it's also a contract year for him. If he continues to play a bit recklessly then you figure it does him no good for beyond this season.
Why they will succeed: This one is rather simple: Dave Tippett is still their coach. He has done a fantastic job with this organization no matter what roster he is handed; he makes it work. Even though they lost their top scorer in Whitney, it doesn't look like a roster that should be that decimated. Smith is still around and so are Ekman-Larsson and Keith Yandle on the blue line and of course Vrbata and captain Shane Doan, who decided to stay in Phoenix after a long summer decision. They aren't flashy by any stretch but they get the job done and the large majority of the roster is still intact from a team that reached the final four.
Why they won't succeed: At some you figure it all has to catch up with these guys, right? Not only have they dealt with player after player leaving the team in some form or another but they've also been dealing with the uncertainty of the franchise's future and other obstacles like a lack of fan support. Maybe Whitney heading to Dallas will be the straw that breaks the camel's back and they finally can't make it up, no matter who is behind the bench. It would also behoove them to cut down on the shots against because Smith saw more than his fair share of pucks, making his play last year all the more impressive.
Realistic expectations: Until this team proves otherwise, they realistically are in the playoff picture and could be looking at a deeper run again. They play in an awfully competitive (see: balanced) division so they'll have to fight for it but the Coyotes will remain an under-the-radar threat in the West.
More 2013 NHL Season Preview