| | | |
| --- | --- | --- |
| | Minnesota Wild | |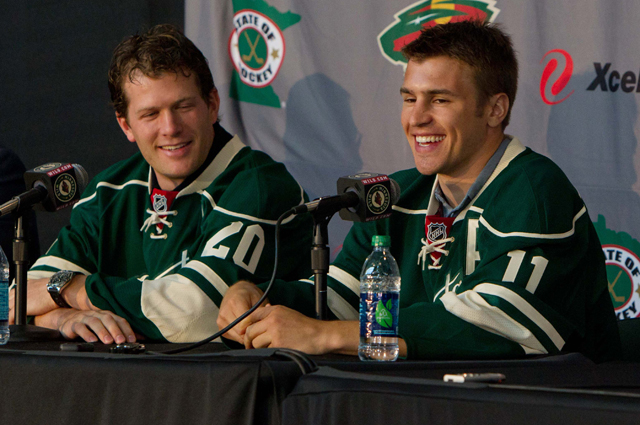 2011-12 record:
35-36-11, 81 PTS
Last season: Do you recall the first half of last season when the Minnesota Wild were the toast of hockey? Mike Yeo, in his first season coaching in the NHL, had the Wild with not only the lead in the Northwest Division, but the most points in the entire league. Of course it was being achieved with the help of smoke and mirrors and eventually it caught up to the Wild, who crashed hard and fell out of the playoff race well before the season ended. They were hurt by injuries, particularly on defense, but that was only a small part of the fall from grace. Keeping up that winning percentage with so little offense wasn't something that was going to last, full complement of players or not. The good news was they got to see a lot of faces from AHL Houston come up and show what they're made of. The blue line has plenty of depth.
Key offseason losses: Nick Johnson, Guillaume Latendresse, Brad Staubitz
When the team struggled as much as it did, it's not the biggest issue in the world when you have to say goodbye to guys who weren't the cornerstones of what you did have. None of these guys scream out massive loss except for possibly Latendresse. When he has been healthy he has been a productive player but last season he played just 16 games and the season before only 11 games. His 25 goals in 55 games with the Wild in 2009-10 seem like an awfully long time ago. Staubitz handled the dirty stuff (and he has a pretty awesome name if this writer may say so) but the Wild addressed that need via free agency.
Key offseason additions: Zach Parise, Ryan Suter, Torrey Mitchell, Zenon Konopka
Does anybody know much about these guys, did the Wild actually get anybody worth mentioning here? OK, yes, the Wild made the biggest splash of free agency (and the summer) when they signed Americans Parise and Suter on July 4. We were told that the Wild were going to make a push for them and some thought that perhaps they might get one of the two but as the days of free agency went on, it seemed more and more plausible Minnesota could do it and then the announcement was made; identical 13-year, $98 million contracts. The question now is if Parise and Suter can come in and give the Wild the big boost in offense they need? They are both capable, Parise as a high-scoring forward and Suter being a gifted offensive defenseman. Not to be forgotten, Mitchell adds some bottom-line depth and Konopka brings his heavy fists to replace Staubitz.
Potential breakout player: Jason Zucker
Here is something people seem to forget when looking at the Wild and being distracted by the glitz and glamour of Parise and Suter; this franchise has a lot of talent building in the pipeline. Zucker left college last season and signed with the Wild, getting his first taste of NHL action in just six games. He only had two assists to show for it but the captain of American Junior team has loads of potential to develop into a scorer. Perhaps the big numbers won't come quite yet, however Zucker should see a strong campaign out the chute to get his career going. Charlie Coyle is another elite prospect that could have as good or a better campaign.
Player on the hot seat: Dany Heatley
Right now it's hard to put anybody on the hot seat in Minnesota, the Wild still seem to be in that honeymoon phase after the big summer signings and everything is hunky dory. But we have to go with somebody so Heatley it is. He has felt the pressure before and his numbers have been trending the wrong way, not exactly ideal when you carry a cap hit that exceeds $7 million. He was brought in to lead the scoring charge in the absence of Marian Gaborik and he did, but I don't think 24 goals to lead the team is what they had in mind. He only has two seasons left on his contract so now would be the time to start proving he's still worth big money.
Why they will succeed: There were no better free agents out there this summer than either Parise or Suter and the Wild got them both. Add those to a mix that includes Heatley, Devin Setoguchi and Mikko Koivu along with some up-and-coming talent and there is plenty to get excited about. Under Yeo and with Niklas Backstrom/Joshua Harding in net, the defense hasn't been much of an issue. The great thing about the signings is that the Wild showed they were very intent on winning and addressed their massive need for offense at the same time. There's a buzz around this franchise that hasn't been there for many years and that can be infectious.
Why they won't succeed: While adding Parise and Suter was huge, they still have a long ways to go. The hopes for Minnesota becoming a true contender probably don't lie in it happening right away, the future is still a couple seasons down the line. For now they have to prove that they are over their goal-scoring problems because they were last in goals scored last season, and by a wide margin. They averaged just 2.02 goals per game. Can Parise and Suter pull up the offense enough immediately?
Realistic expectations: Everybody in the State of Hockey is over the moon with excitement about what lays ahead for the Wild but right now it would be best to temper the enthusiasm. There is reason to be amped up as the Wild no doubt figure to be much more competitive and fun to watch, but they aren't Cup contenders from Day 1. In reality they will probably be with the mix of numerous other teams battling it out for the 4-8 spots in the Western Conference. Given the franchise's past, just making a playoff appearance would be more than welcome.
More 2013 NHL Season Preview