| | | |
| --- | --- | --- |
| | Nashville Predators | |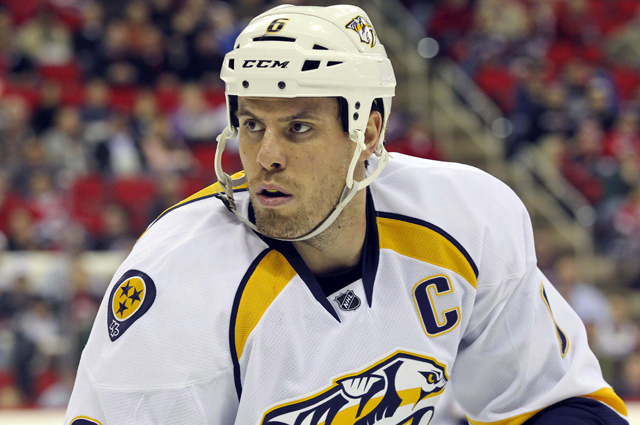 2011-12 season:
48-26-8 (104 points)
Last season: After going the first 11 years of their existence without a postseason series win, the Predators advanced to the second round for the second year in a row, this time exorcising some of their postseason demons against the Detroit Red Wings and eliminating their divisional rival in the first round. Now the next hurdle will be getting past the second round. It was a rather tumultuous experience last season against the Coyotes when some off-ice distractions with Alexander Radulov and Andrei Kostitsyn were benched.
Key offseason losses: Ryan Suter, Francis Bouillon, Jordin Tootoo, Jack Hillen, Anders Lindback, Alexander Radulov
It was a rough offseason for Nashville as they not only lost one of the anchors on the blue line, Ryan Suter, they very nearly lost their best player when the Philadelphia Flyers signed Shea Weber to a restricted free agent offer sheet. Losing both in one offseason, just two years after losing Dan Hamhuis, would have been a crippling blow for the franchise. Fortunately they were able to keep Weber, at least for now. The Alexander Radulov return, which was supposed to be one of the missing pieces for a potential cup contender, turned out to be a bigger headache than anyone could have ever imagined.
Key offseason additions: Chris Mason, Scott Hannan
Going from Ryan Suter to Scott Hannan on the blue is a pretty impressive drop in talent. Hannan is a tough veteran that brings some physicality to the blue line, but offers little offensive upside or mobility. Chris Mason, after a down year with the Winnipeg Jets, will come in to replace Lindback as the backup. If recent history is any indicator he probably won't have to play much as long as Pekka Rinne stays healthy.
Breakout player: Ryan Ellis
With Ryan Suter gone and only Hannan coming in from outside to replace him a lot is going to be asked of the Predators' youth, and that includes 22-year-old, former first-round pick Ryan Ellis. In 32 games last season he scored three goals to go with eight assists, but was also one of the best possession players (plus-10.3 Corsi Relative) on a team that had few of them.
Player on the hot seat: Paul Gaustad
The Predators have a ton of assets and resources invested in Paul Gaustad. They gave up a first-round pick in last year's draft to acquire him at the trade deadline, and then just before he hit the unrestricted free agency market they signed him to a four-year contract worth over $10 million. The biggest reason: His ability to dominate the face-off circle, which is even more important for Nashville given how much time they spend in their own end of the ice (and how often Pekka Rinne covers the puck). Faceoffs will never be an issue with him -- he's going to win a lot, but for what they gave up to get him they're going to need to see even more than just face-off wins to get value out of that deal.
Why they will succeed: The Predators always find a way to replenish their NHL roster from within and the pipeline from their farm system will be put to the test once again on the blue line. Even though they don't have a dominant scorer up front they still have a pretty balanced attack offensively and are able to get production from every line, and Pekka Rinne has proven to be one of the best goalies in the NHL. He faced a heavy workload last season not only in terms of playing time, but also with the number of shots he had face and did his part to carry the team.
Why they won't succeed: They spend a lot of time in their own end of the ice, and even though they were able to produce some offense last season you have to wonder how sustainable it will be for them if they continue to get badly outshot every night. A lot of guys seemed to perform above their career levels last season and if any sort of regression kicks in they might need Rinne to be even better than he was last season.
Realistic expectations: The Predators have been regulars in the Stanley Cup playoffs since the 2003-04 season and they lost quite a bit from a 104-point team a season ago. They always find a way to make a work with general manager David Poile and coach Barry Trotz, and both men will have their work cut out for them if the Predators are going to make the playoffs for the eighth time in nine years. The Western Conference is a tough place, and the Central Division is as tough as any division in the league, so a bottom playoff seed (seventh or eighth) might be their ceiling.
More 2013 NHL Season Preview