| | | |
| --- | --- | --- |
| | Anaheim Ducks | |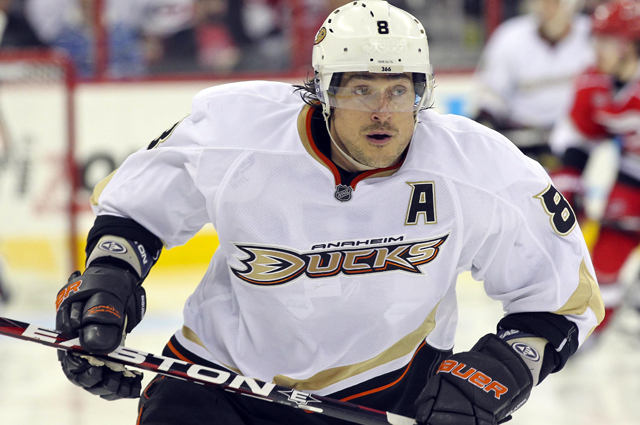 2011-12 record:
34-36-12, 80 PTS
Last season: Let's start by simply saying it didn't go quite as planned. There were reasonably high expectations of the Ducks last season but they came out an absolute mess. They hit such a tailspin that they were competing with the Blue Jackets for the No. 1 overall pick and head coach Randy Carlyle was fired, replaced in short order by former Capitals coach Bruce Boudreau. It took a little more time but the Ducks finally started to click and raised some faint hopes that they could actually make the playoffs with an epic second-half comeback, getting within five points at one time, but the hole was too deep to climb out of and they sagged to the finish line.
Key offseason losses: Lubomir Visnovsky, Niklas Hagman, Sheldon Brookbank, George Parros
The biggest loss here was Visnovsky, who was traded to the Islanders (and it held up after an appeal from Visnovsky), but at this point you have to wonder how big of a loss he really is. Up until last season Visnovsky was one of the absolute best point-producers from the blue line in the NHL but last year at age 35 he had just 6 goals and 21 assists in 68 games, a far cry from his 68-point season in 2010-11. Hagman headed off to the KHL, a sign of lack of interest across the NHL, Brookbank signed with the Blackhawks and the fighter Parros inked with the Panthers. The biggest loss from those three is the small level of buzz that Parros and his 'stache bring with him. However it was close to there being much bigger offseason losses (more on that later).
Key offseason additions: Bryan Allen, Sheldon Souray, Daniel Winnik, Brad Staubitz
When you look at the outgoing and incoming lists, it's tough not to believe that the Ducks did improve in the offseason. Souray, coming off his career-reviving season in Dallas, will be charged with trying to pick up the point production left behind by Visnovsky and his booming shot will help on the power play. Allen is my favorite addition, though. He doesn't bring much at all in terms of offense but he is one of the most underrated defensemen in the sport, he just gets the job done. Winnik doesn't figure to be a home run but he will add quality to the Ducks' lower lines and then you have Staubitz, who is pretty much going to assume the role vacated by Parros.
Potential breakout player: Kyle Palmieri
The Ducks' first-round pick (No. 26 overall) in 2009, Palmieri has only had a couple of cups of coffee with the big club thus far. In a total of 28 games with the Ducks in the past two years, Palmieri has 5 goals and 3 assists to show for it. But at the AHL level, the American product has been nearly a point-per-game player. Last season with AHL Syracuse, Palmieri had 33 goals and 25 assists in 51 games, a sign of things to come, the Ducks hope. He should have a spot full-time with the Ducks when the season begins. What's more is that Palmieri will be due a new contract after this season, so what better time for a breakout season than this? A close second here goes to Devante Smith-Pelly, whose rookie campaign was hampered by injury.
Player on the hot seat: Bobby Ryan
For some reason I could never exactly figure out, Ryan was on the trade block off and on through last season. It made sense to try and make some moves with the team struggling as much as it was, but was Ryan really part of the problem? He's still young and is under contract with a reasonable cap hit ($5.1 million) for the next three seasons, he has at least 30 goals in each of the last four seasons and has missed only one game in the past three years. Still, things seem a bit tenuous with Ryan and the Ducks, even if they are saying the summer discontent was much ado about nothing. I'm not entirely sure what more Ryan can do, but if the team doesn't perform better than perhaps he will again be the scapegoat.
Why they will succeed: There is still a lot of talent here to make you giddy with excitement at their potential. It's tough to find a trio that's much better than Ryan, Corey Perry and Ryan Getzlaf with Cam Fowler on the blue line. Oh, and this guy named Teemu Selanne, he's still pretty awesome. Remember, he did lead the Ducks in points last season. The depth was an issue last season but it seems to be getting better as young players are starting to crack the lineup and the fact that they brought in a guy like Winnik with plenty of NHL experience. Also, it's the second go-round with Boudreau behind the bench, so this team should start to resemble his preference/style more and more. Based on his results in Washington, that wouldn't be so bad.
Why they won't succeed: They still need to get some help in the scoring department outside of the top five forwards (add Saku Koivu to the four already mentioned). The highest-scoring forward outside of those five guys last season was Andrew Cogliano with 26 points. If that doesn't change (on a proportionate basis, of course) then they probably aren't in much better shape than they were last season.
Realistic expectations: I still remain a bit miffed about how bad last season was for the Ducks, there was no reason they should have been that bad. Realistically, though, there were some holes and I'm not sure if they're plugged enough but there's no reason why they can't be in the mix for one of the playoff spots in the West. Chances are they will be just outside the top 8 but if they play the way they did for most of the second half of last season and that's how they will be under Boudreau full time then things will be looking bright.
More 2013 NHL Season Preview