| | | |
| --- | --- | --- |
| | Edmonton Oilers | |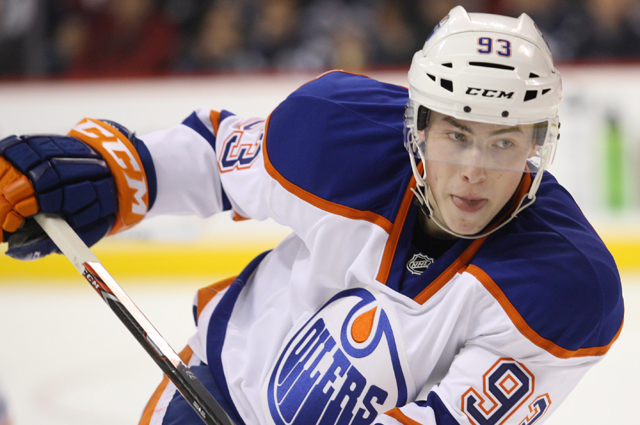 2011-12 record:
32-40-10, 74 PTS
Last season: It was another year just like the previous couple for the Oilers: they weren't good. But it certainly wasn't expected to be any other way. The Oilers fully committed to a rebuild and that includes some growing pains. They played the rookies and at times there were strong flashes that the Oilers are certainly on the right path but they are still a few seasons away. They were bad enough to finish second from the bottom behind only the Blue Jackets but lady luck shined brightly on them again come draft time and Edmonton landed the No. 1 overall pick for the third straight season.
Key offseason losses: Nobody*
First that depends on the future of defenseman Andy Green. There is some talk that he might have played his last NHL game. For now, though, that's not the case so the Oilers didn't lose very much of significance. That is unless you consider Cam Barker to be a big loss. The lack of losses isn't surprising. Sure, the Oilers were bad enough to get the No. 1 overall pick again last year but that's somewhat by design, they are in a full rebuilding process. Pretty much everybody on the team is there for a reason right now, they are almost all growing into their roles or in the case of the vets they bring that always-valued veteran presence.
Key offseason additions: Nail Yakupov, Justin Schultz
We don't usually include draft picks in the key additions section but in the Oilers' case we'll make an exception. The previous two No. 1 overall picks -- Taylor Hall and Ryan Nugent-Hopkins -- began their careers by playing in the NHL immediately and Yakupov should be no different. He was pretty clearly the best scorer in the draft and he will be the focal point of what Edmonton hopes becomes a nearly equally potent second line. After seeing what Yakupov did in the KHL during the lockout, there's no reason to think he can't make an impact as a rookie and be part of what should be a very strong race for the Calder. Then there is Schultz …
Potential breakout player: Justin Schultz
It's hard to say Schultz will be a breakout player considering his reputation precedes him (same with Yakupov) but somebody has to take the honor on the Oilers, we've got a pretty good idea with what lies ahead for the other players on this team. Schultz's decision to pick the Oilers over all the other teams in his odd form of free agency came as a surprise to some but part of the decision was based on the fact that he was going to get more chance to play in Edmonton with a weaker group of defensemen that needed help. He also will skate with a young but very talented group of forwards. There is a reason why Schultz was pursued by every team (and why the Ducks weren't happy he was able to leave their control) and he will likely show everybody right away with a pretty big role with the Oilers.
Player on the hot seat: Ales Hemsky
So here's the deal with Hemsky: He has two seasons remaining on his contract right now with a $5 million cap hit. That's a pretty big hit, particularly for a guy who had 31 goals ... in the last three seasons combined. Last season with the Oilers he played 69 games but had just 10 goals and 26 assists to show for it. He did have good numbers playing in the Czech league during the lockout but they'll need a lot more in the NHL from him. At 29, you wonder how much he is seen as part of the franchise moving forward if he will cost that much and produce that little. Also on this list you have Sam Gagner, who always seems to be on a hot seat, and Ryan Whitney, who hasn't played more than 62 games since 2007-08 with the Pens.
Why they will succeed: Young or not, that talent up front is enough to make you drool. Between Jordan Eberle, Ryan Nugent-Hopkins, Taylor Hall and Nail Yakupov you have four what seems to be perennial all-stars. Further, since they're all so young, they had the chance to do what not many others could during this lockout; play meaningful games together. The Oilers' young guns spent their time in AHL's Oklahoma City. That is certainly an advantage of theirs. Also in OKC was Justin Schultz, who tore up the league. If he can match the hype then undoubtedly the Oilers could see a big step in their maturation. Also, the Devan Dubnyk/Nikolai Khabibulin tandem isn't the greatest you'll find but they each had save percentages at .910 or above last season, so they're not exactly weighing the team down.
Why they won't succeed: The future might be bright, but it's still just the future. With each passing year this team starts to look more and more dangerous but it just doesn't appear to be their time, not quite yet at least. The addition of Schultz greatly helps a lackluster (to be kind) defensive corps but you have to wonder if it's all shored up. There are a lot of bodies on the blue line, but still a lot of question marks/concerns. As far as the forwards go, they have the foundation for two very good lines but the overall depth is still a little thin. It's tough to rely so heavily on players who haven't played more than two seasons in the NHL yet.
Realistic expectations: While the future is bright, it's probably still just that; the future. It's certainly within reason that the Oilers will take another small step -- they did last season despite getting the No. 1 pick again -- but right now a giant leap doesn't seem to be coming. You never know but it wouldn't seem likely. Chances are the Oilers are looking at another season near the bottom of the West before they finally start to make their move back into the playoff picture. The rebuilding is hitting the end phases.
More 2013 NHL Season Preview