| | | |
| --- | --- | --- |
| | Colorado Avalanche | |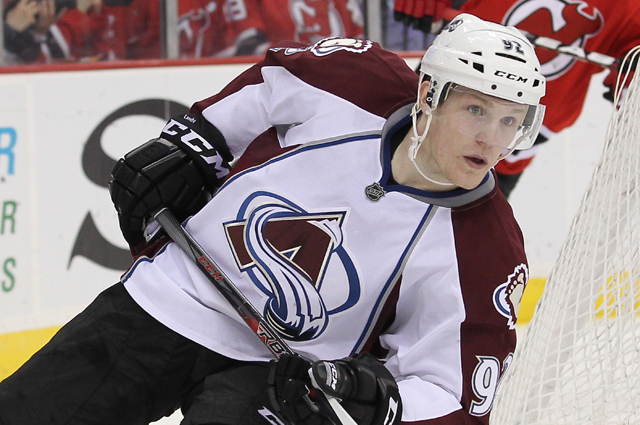 2011-12 record:
41-35-6, 88 PTS
Last season: Perhaps it's a bit telling of how things went when you consider that their best player was a rookie. Granted, it was Gabriel Landeskog and he won the Calder Trophy, but the point remains. Landeskog was their best player in a lot of areas including goals scored (with 22). It wasn't always pretty but the Avalanche found ways to win games and they remained in the playoff hunt for nearly the entire season, on the outside looking in. That's just where they finished, taking third in the Northwest behind Vancouver and Calgary, and 10th overall in the West. But there were reasons for hope with a young nucleus showing well (Landeskog gets the headlines but don't forget 21-year-old Ryan O'Reilly, the team's leading scorer last season).
Key offseason losses: Jay McClement, Peter Mueller
McClement wasn't in Colorado too long, playing a little more than a season with the Avs after being traded out of St. Louis, but that doesn't mean his loss won't hurt. The defenseman who had 10 goals last season, signed with the Toronto Maple Leafs over the summer. He's been very durable, playing in at least 80 games every season since his rookie campaign in 2005-06. He will be missed on the blue line at least a little bit. The same can't really be said for Mueller, though. His time in Colorado was so injury-riddled that it's almost like he never suited up for the Avs. His time on the ice was productive, there was just so little time on the ice.
Key offseason additions: P.A. Parenteau, John Mitchell, Greg Zanon
The big fish here was of course Parenteau, who was a monster assist man playing with John Tavares and the Islanders the past few seasons. He emerged out of relative obscurity and posted back-to-back seasons of more than 50 points, including an 18-goal, 49-assist campaign last season. The hope/expectation is that he can reignite Matt Duchene and help generate some more offense for the Avs as a rare play-making winger. Mitchell and Zanon will be tasked with helping out the blue line but neither individual figure to be able to make up the offense that McClement took with him, even if it wasn't a ton.
Potential breakout player: Jamie McGinn
To be more correct, McGinn probably had his breakout after the trade deadline when he came over from San Jose and started scoring like a mad man. McGinn had 8 goals in just 17 games with the Avs, a remarkable stretch. But that sample size is small so we'll say we're still waiting for the true breakout. Assuming the proverbial light switch has been turned on, he showed that he can be one of the Avs' go-to guys. It's unlikely he can keep up the scorching pace of last season, but he's likely primed for a career year.
Player on the hot seat: Matt Duchene
It was just a few seasons ago that Duchene was the future face of the franchise after going No. 3 overall to the Avs in 2009 (behind Taylor and Tyler) but that has already been handed down to Landeskog, who is already the team's captain. Duchene hit the ground running by putting up 55 then 67 points in his first two seasons until last season when he was only able to play 58 games and saw a big dip in his numbers with just 14 goals and 14 assists; let's call it a junior drop. Having Parenteau in tow could be exactly what he needs.
Why they will succeed: There is plenty of young, maturing talent here, enough to encourage the organization to stay the course. They kept head coach Joe Sacco and elected to re-sign almost everybody who was up for a new contract. The growth from two seasons ago to last season was substantial, an apparent sign things are headed in the right direction. They also have some offensive balance as Parenteau's addition makes 10 players who had double digits in goals last season. Sacco has the convenience of having two goalies he can feel comfortable playing between Semyon Varlamov and Jean-Sebastien Giguere. That versatility can help a team get through the doldrums.
Why they won't succeed: While they might have balance, there is no explosive scorer on this team, at least they didn't last season. It's why they clocked in at 25th in the league in goals per game. The defense still has some concerns with it as well, the corps could stand to do a better job of getting the puck moving up ice and pinching in to bring up that offense some. Youth is great in hockey as players seem to be hitting their primes earlier and earlier, but if you have too much it can be tough to overcome.
Realistic expectations: The playoffs are certainly not out of the equation for the Avalanche and they might need to make it that far for Sacco to remain employed. They gave him another season hoping the team can continue to build on what it started last season. With players like O'Reilly and Landeskog continuing to grow and Duchene finding his form again with Parenteau helping him out, the Avs could sneak into the postseason, but it will be a battle. The middle pack in the West will be extremely competitive.
More 2013 NHL Season Preview