| | | |
| --- | --- | --- |
| | Pittsburgh Penguins | |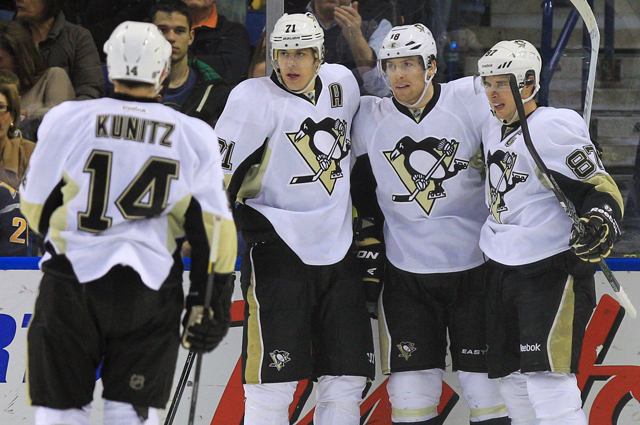 2011-12 record:
51-25-6, 108 PTS
Last season: It was one of the best regular season performances in franchise history, made even more impressive by the fact they battled significant injuries for much of the year including key players Sidney Crosby, Jordan Staal, and Kris Letang. Their 108 points were the second most in team history while it was just their second 50-win season ever. Heading into the playoffs with a healthy Sidney Crosby they were the odds on favorite to win the Stanley Cup but for the second year in a row were eliminated in the opening round of the playoffs losing in six games to the Philadelphia Flyers.
Key offseason losses: Jordan Staal, Steve Sullivan, Zbynek Michalek
After turning down a 10-year, $60 million contract extension the Penguins quickly moved and sent Jordan Staal to the Carolina Hurricanes for Brandon Sutter and a couple of top defense prospects. Staal has become one of the best two-way centers in the NHL and was the player Dan Bylsma trusted the most in tough situations, playing the heaviest minutes on the team and opening up offensive situations for players like Evgeni Malkin and James Neal. Just hours after Staal was traded, Zbynek Michalek was sent back to Phoenix in a salary dump trade that cleared over $4 million in cap space off of the Penguins books. He never fully lived up to expectations in Pittsburgh after signing with the team as a free agent prior to the 2010-11 season.
Key offseason additions: Brandon Sutter, Tomas Vokoun, Tanner Glass
Brandon Sutter should be more than enough to replace Staal's defensive presence as the third-line center, though he doesn't have anything close to Staal's offensive upside. The biggest addition, and perhaps the most overlooked in Pittsburgh, might be Tomas Vokoun who takes over for Brent Johnson as the backup to Marc-Andre Fleury. And he might even be able to push Fleury for playing time. Vokoun is just one year removed from being one of the top goalies in the NHL, and even in a down year for the Capitals was still slightly above the league average in terms of his performance.
Potential breakout player: Simon Despres
With Michalek gone the Penguins have an opening on their blue line and Despres seems like a likely candidate to slide into the group. He's one of their many young, talented defenseman and saw limited time in the NHL last season and played well. As a rookie the Penguins will probably shelter him a bit and put him into more offensive situations where he can succeed (similar to the way they brought along Kris Letang and Alex Goligoski in recent years) which should allow him to put up decent numbers.
Player on the hot seat: Marc-Andre Fleury
The Penguins paid Vokoun $4 million over the next two seasons. That is a lot of money to pay a backup goalie and there is no doubt that he can step in and be a No. 1 goalie if needed. Fleury is coming off a third straight poor performance in the playoffs and since 2009-10 has a .880 postseason save percentage. That places him 26th out of the 27 goalies that have appeared in at least seven playoff games over that stretch. The only player below him on that list is Sergei Bobrovsky. That is not good enough, and while Vokoun was brought in to be an upgrade over Johnson, there remains a chance that he can push Fleury for playing time, something that he's never had to deal with at any point in his career.
Why they will succeed: Well, if they can keep people healthy it's pretty simple. With Sidney Crosby and Evgeni Malkin they have two of the three best players in the NHL (perhaps even the two best players) and impact players like Kris Letang and James Neal to complement them. With that sort of arsenal at your disposal you're always going to have a chance.
Why they won't succeed: That said, Sidney Crosby's health will always be a concern and if they can't solidify their goaltending come playoff time (and as mentioned above, that has been a major issue in recent years) a fourth straight early postseason exit isn't out of the question.
Realistic expectations: On paper they're as talented as any team in the league with a good mix of skill and role players. They will be one of the best teams in the NHL and a preseason favorite to win the Stanley Cup.
More 2013 NHL Season Preview