| | | |
| --- | --- | --- |
| | Calgary Flames | |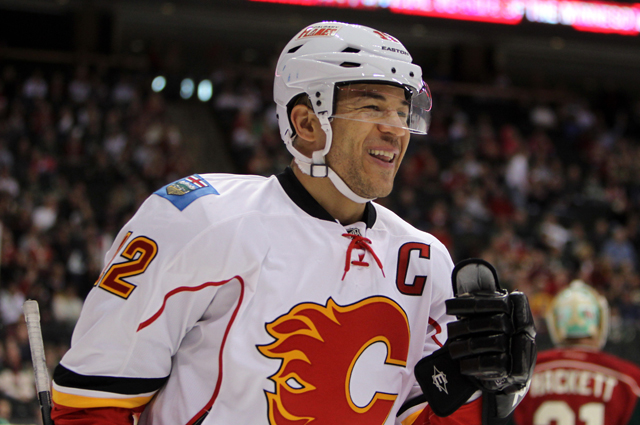 2011-12 record:
37-29-16, 90 PTS
Last season: The Flames found themselves in a spot they are starting to get familiar with, and one that's no good. They were stuck in the no-man's land of being outside of the playoff race all season long but just close enough to make them believe they were in it. The problem was, with an average defense (14th in the league in goals against), they just couldn't score enough. Despite having one of the league's highest payrolls, they were just 24th in the NHL in goals scored. There were rumors that perhaps GM Jay Feaster was going to do the unthinkable and trade franchise legend Jarome Iginla to build for the future, but he elected to go "all in" and the Flames fell short of the postseason, five points back of the Kings for the eighth position. After a third straight season of failing to reach the playoffs, Brent Sutter and the Flames parted ways and the relatively unknown Bob Hartley was hired to take the reins.
Key offseason losses: Olli Jokinen, Scott Hannan, Tom Kostopoulos, David Moss
The big one here is obviously Jokinen, who had found his career again by moving up to Calgary. The veteran center played a full 82-game slate and put up 23 goals with a team-high 38 assists, the second-most points on the team behind only Iginla. It was his best season in terms of points since he left Florida five seasons ago. Jokinen didn't always seem to get the credit he deserves, but he is certainly a more-than serviceable top-six center and as we know, those don't just grow on trees in the NHL. Moss is one of those injury-plagued players who does have potential but just can't stay on the ice. Two seasons ago he had 17 goals in 58 games for the Flames.
Key offseason additions: Dennis Wideman, Jiri Hudler, Roman Cervenka
Well we can say this, the Flames were busy. The move that made the most headlines was the trade to acquire Wideman's rights from the Capitals and then the subsequent contract that came with it: 5 seasons, $26.25 million. It turned some heads around the league, least of all Washington. Yes, Wideman was an All-Star last season but he is not the best in-zone defenseman you'll find and he has a tendency of turning over the puck. By season's end in Washington, he found himself getting decreasing ice time. The Hudler signing drew less headlines but it could work out well. Or it could not at $4 million per season. He had 25 goals and 25 assists for the Red Wings last season but how much of that was a product of playing in Detroit? We'll find out soon enough. Then there was the very under-the-radar signing of Cervenka. More on him below.
Potential breakout player: Roman Cervenka
Certainly the easy and obvious answer here is Sven Baertschi, the rookie who played five games with the Flames last season on an emergency call-up from the junior level and took Calgary by storm. Baertschi scored three goals in five games and excited the fans of what's to come. But we're going to take a shot on Cervenka, the relatively unknown Czech player who signed a one-year deal with the Flames. The 26-year-old has put up big numbers wherever he has played, which was most recently with Avangard Omsk in the KHL. In the last two seasons he had 54 goals in 105 games, certainly not shabby for the KHL, where scoring isn't typically as high. Before that he was way above a point-per-game in the Czech league. This seems like a boom-or-bust contract but it's just one year, which might give Cervenka that much more incentive to prove his worth.
Player on the hot seat: Matt Stajan
Stajan is one of those players whose salary just doesn't match up with what he's producing. He has two years remaining on his contract with the Flames that carries a cap hit of $3.5 million per season. At that price you'd probably expect more than 8 goals and 10 assists in 61 games, which is what Stajan posted last season. There are a few others who seem to always be under some heat, including Jay Bouwmeester, who has mentioned in trade talks and then Wideman, based on the contract he just signed. With big money comes big expectations.
Why they will succeed: Well there is some talent in Calgary, they have the fourth-highest payroll in hockey, after all. It's tough for me to remember, but the Flames were the best team among the non-playoff teams in the West last season and while they lost a good player in Jokinen, they did bring in some nice players in Hudler and an All-Star in Wideman while the jury remains out on Cervenka. And of course they have Miikka Kiprusoff. When you have a goalie like him you're very rarely going to be completely out of games.
Why they won't succeed: The roster is highly paid but it seems to be a stale mix of veterans who might be past their prime or guys not quite delivering on expectations. The direction of the franchise doesn't seem to strong at this point. The defense will be interesting to watch as the Flames have eight players signed to NHL deals, so keeping all of them happy on the ice will be a challenge. All in all I'm just not in love with the talent they have and the direction of the franchise.
Realistic expectations: There certainly is some talent on this team and you can't forget that they were the best of the teams that didn't reach the playoffs in the West last season. But were their moves over the summer enough to get them back into the playoffs in four seasons? It will be a tough task considering the rest of the conference is going to be so competitive. They are probably looking at another early teem time.
More 2013 NHL Season Preview