| | | |
| --- | --- | --- |
| | Columbus Blue Jackets | |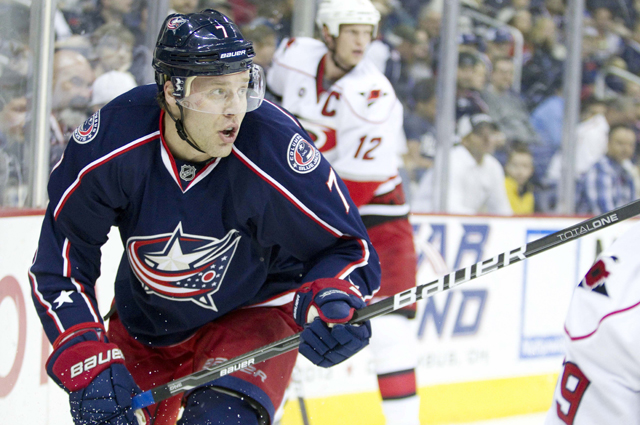 2011-12 season:
29-46-4, 69 PTS
Last season: My goodness what a dumpster fire this season turned out to be for the Blue Jackets. It started with such high hopes with the additions of Jeff Carter and James Wisniewski, and then everything that could have possibly gone wrong, went wrong. Injuries, a suspension that cost Wisniewski his first eight games of the season, poor goaltending, and the Carter era lasted just a few months before he was shipped to Los Angeles (where helped the Kings win the Stanley Cup) for Jack Johnson. Oh, and they not only finished with the worst record in the NHL, they also lost the draft lottery and didn't even get the luxury of picking No. 1 overall.
Key offseason losses: Rick Nash, Marc Methot, Aaron Johnson
Rick Nash, the best player in franchise history, was finally traded to the New York Rangers for a package that included Brandon Dubinsky, Artem Anisimov, Tim Erixon, and a first-round draft pick. The return is OK, but after the saga dragged on over many months and rumored trade proposals that included guys like Derek Stepan, Chris Kreider, Ryan McDonagh, Michael Del Zotto, or Carl Hagelin, the return seemed a little … underwhelming. Anisimov is an underrated player that can help them, and Dubinsky had a down year he should be able to bounce back from, but it's hard to see the trade making them a better team, even if Nash's production had declined in recent years.
Key offseason additions: Sergey Bobrovsky, Brandon Dubinsky, Artem Anisimov, Nick Foligno, Adrian Aucoin
Here's something to consider when it comes to the addition of Sergey Bobrovsky: There were only four goalies in the NHL last season that qualified for the save percentage lead and finished the season with a mark below .900. The Columbus Blue Jackets now have two of those four goalies in Bobrovsky and returning starter Steve Mason. Nick Foligno has top-six potential but hasn't really shown it yet on a consistent basis, while Adrian Aucoin brings a nice, steady veteran presence to a blue line that's lacking it.
Breakout player: Nikita Nikitin
The Blue Jackets traded Kris Russel to St. Louis early in the season for Nikitin, a move that warranted nothing more than a bunch of yawns around the NHL. But it turned out to be the best move Scott Howson made all year as Nikitin proved to be one of their most valuable defenseman. He played tough minutes and consistently outplayed his opponents and provided a bit of a spark offensively from the blue line. The Blue Jackets signed him to a two-year contract extension worth over $4 million this summer.
Player on the hot seat: Jack Johnson
Jack Johnson can score from the blue line, but he's also one of the worst defensive defenseman in the NHL. The Blue Jackets gave up their prized offseason addition to get him, and they're on the hook for another six years and over $25 million when it comes to him. His defensive game has to improve, but it's shown few signs of actually happening.
Why they will succeed: Quite honestly, they won't. They have a little more depth than the did last season but they're lacking impact players all over the ice and just don't have enough manpower to compete in the Central Division or the Western Conference.
Why they won't succeed: For all the reasons just mentioned above, not to mention what might still be one of the worst goaltending situations in the league.
Realistic expectations: Another season in the draft lottery.
More 2013 NHL Season Preview