| | | |
| --- | --- | --- |
| | New York Rangers | |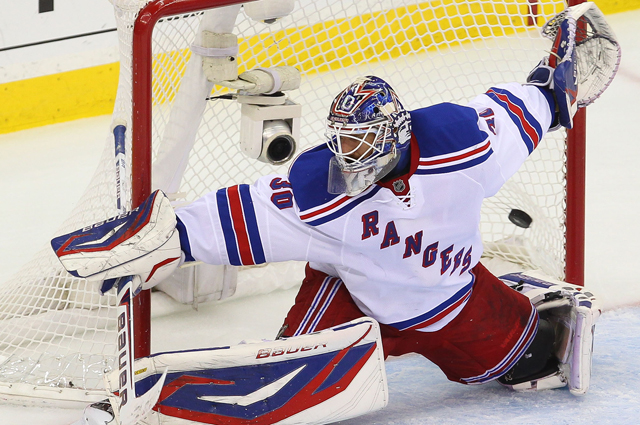 2011-12 season:
51-24-7, 109 PTS
Last season: For the first time since 1993-94 (the last time they won the Stanley Cup) the New York Rangers won a division title and advanced to the Eastern Conference Final. They narrowly avoided elimination in each of the first two rounds needing Game 7 wins against the No. 7 and 8 seeds (Washington and Ottawa) in the Eastern Conference before losing to their longtime rivals from New Jersey in the third round. The Rangers overcame an inconsistent offense and leaned heavily on Henrik Lundqvist and a strong defense anchored by the shutdown pairing of Ryan McDonagh and Dan Girardi.
Key offseason losses: John Mitchell, Ruslan Fedotenko, Jeff Woywitka, Brandon Dubinsky, Artem Anisimov
Ruslan Fedotenko left via free agency to join the Philadelphia Flyers, while Brandon Dubinsky and Artem Anisimov were a part of the package of players that went to Columbus to bring Rick Nash to the big apple. It was a decent package to give up as Anisimov was an underrated player in New York and Dubinsky might be a guy primed for a bounceback year, but general manager Glen Sather was able to get his man without having to give up any of McDonagh, Marc Staal, Michael Del Zotto, Carl Hagelin, Derek Stepan, or Chris Kreider. Pretty incredible when you think about it, especially given the rumored offers from Columbus that were swirling around at the trade deadline.
Key offseason additions: Rick Nash, Arron Asham, Taylor Pyatt, Jeff Halpern
After months of rumors and speculation, the Rangers finally landed Nash from the Columbus Blue Jackets giving them another top-line scorer. The question is how good will Nash be in New York, and will he be worth what is currently one of the largest contracts in the NHL? His production has steadily declined over the past few years which is a bad sign for a guy making over $7 million per year. The surroundings might be better in New York than they were in Columbus, but the pressure to perform will most certainly be worse. Asham, Pyatt and Halpern are nice depth signings, while Asham continues his tour of the NHL's Atlantic Division having now played for all five teams in the division.
Breakout player: Carl Hagelin
Carl Hagelin's rookie season produced a solid 14 goals and 24 assists in 64 games for the Rangers. While those numbers were strong for a rookie, his underlying numbers suggest that he was even better and could be poised for a big sophomore season. As a rookie John Tortorella trusted Hagelin to play some of the toughest minutes among Rangers forwards, and when he was on the ice he was able to help drive play in the right direction finishing with the second best Corsi Relative rating on the team, meaning that when he was on the ice the Rangers were outshooting their opponents far more than they were when he was off the ice. Possession is good, and Hagelin was one of the Rangers' best players in that area last season. And he did it as a rookie.
Player on the hot seat: Rick Nash
For the reasons stated above. He's viewed as one of the missing pieces for a team that is considered to be a Stanley Cup contender. Combine that with his salary, the hype, and fact he's playing in the media frenzy that is New York he is going to have to deliver. His production has dropped for a few years in a row, and while he's probably never going to score 40 goals again it probably won't do him any favors to see his goal and point totals drop for a fourth consecutive year.
Why they will succeed: They still have one of the best goalies in the NHL in Henrik Lundqvist and an outstanding defense. Scoring against them should continue be a problem, and while there are still some questions about the offense, they have a pretty good young core of forwards with Kreider, Stepan, and Hagelin to go with veterans Brad Richards, Marian Gaborik and Nash.
Why they won't succeed: For the early part of last season the Rangers relied heavily on Lundqvist and the defense, and for as great as they were on the back end, there has to be an expectation that Lundqvist's play might drop at least a little bit if only because his performance last season was almost too good. Lundqvist finished the 2011-12 season with a .930 save percentage, 10 points higher than his career average. Since the start of the 2005-06 season only five other goalies finished a full season with a mark that high, and they almost always saw a decline the following season simply because it's such an unsustainable number. The Rangers are a good, but not great, offensive team and they will need Lundqvist to continue to be a rock as the last line of defense.
Realistic expectations: They should once again be in the mix for the Atlantic Division crown and one of the top spots in the Eastern Conference.
More 2013 NHL Season Preview