| | | |
| --- | --- | --- |
| | Philadelphia Flyers | |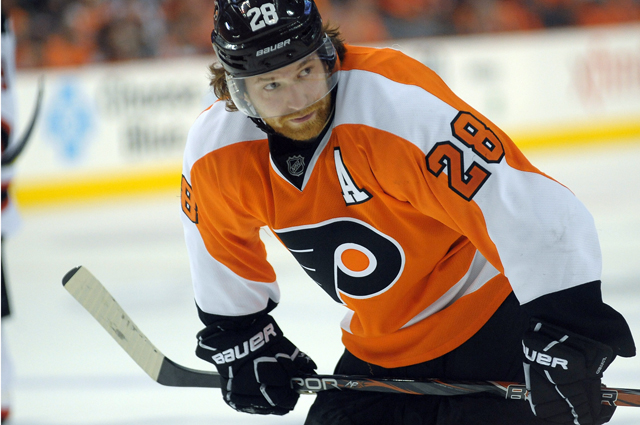 2011-12 season:
47-26-9, 103 PTS
Last season: General manager Paul Holmgren spent the summer leading up to the 2011-12 season by gutting his roster and completely rebuilding it on the fly. Mike Richards and Jeff Carter were traded, Ville Leino was let go in free agency, veterans Jaromir Jagr and Max Talbot were signed, and Ilya Bryzgalov was acquired from Phoenix and handed a $50 million contract. It was a bold series of moves that changed the look of the team from top to bottom. Whether they were better or worse is still up for debate, but they were most certainly different. And very entertaining if you like offense.
Key offseason losses: Jaromir Jagr, James vanRiemsdyk, Matt Carle
Jagr still had a little something left in the tank, and even though his production declined as the season went on he helped form a pretty dominant top line alongside Claude Giroux. The Flyers came out of nowhere and signed Jagr but the one-year run between the two ended when he inked a contract with the Dallas Stars this summer. James vanRiemsdyk was the latest Flyers player signed to a long-term contract to be shipped out of town going to Toronto for Luke Schenn in a deal that had been rumored for some time. Matt Carle was probably the best defenseman in Philadelphia last season, or at least in the top-two, and his loss will hurt an already thin blue line.
Key offseason additions: Luke Schenn, Bruno Gervais, Ruslan Fedotenko
Ruslan Fedotenko will be making his second stop with the Flyers after signing a one-year, $1.75 million contract in free agency, but the biggest addition of the offseason was definitely Schenn coming in from Toronto. But how big of an impact will he make? In terms of straight up value it seems like Philadelphia came out on the short end of the deal at the time as vanRiemsdyk has been a better player to this point in his career and might have more value in the future. Schenn is a big, stay-at-home defenseman but has regressed in recent years and has yet to live up the hype that was placed on him when he was drafted in the top-five back in 2008. For a team that's in desperate need of help on the blue line he's going to have to play a big role.
Breakout player: Eric Wellwood
One of the many young, talented Flyers to make an impact last season, Eric Wellwood already plays a advanced defensive game for a player his age and was even called on to kill penalties as a rookie in the regular season nd playoffs. He's a strong skater and displayed some offensive ability with five goals and four assists in just 24 games. Along with Sean Couturier (another guy capable of breaking out in a big way), the Flyers have two outstanding young two-way players.
Player on the hot seat: Ilya Bryzgalov
It has to be Ilya Bryzgalov. It can't possibly be any other player than Ilya Bryzgalov. The Flyers traded their two franchise players (Richards and Carter) in an effort to create enough cap space and rebuild their team around the player they hoped would be the franchise goalie they've been searching for since Ron Hextall was in his glory days. Year one of the Bryzgalov experience (and there are many years remaining that will cost the Flyers a lot of money) was pretty much a disaster, and it got even worse in the playoffs.
Why they will succeed: They're going to score a ton of goals. Last summer's trades brought them a nice collection of young talent in Wayne Simmonds, Jakub Voracek, Sean Couturier, and Brayden Schenn, and when you add them in with guys like Giroux and Read you've got a really deep group of forwards. that can match up against almost any other team in the league.
The only problem is…
Why they won't succeed: They're also going to give up a ton of goals. Nobody knows for sure what to expect from Bryzgalov at this point and the less said about the defense the better. Chris Pronger may never play again in the NHL, Kimmo Timonen is closer to the end of his career than he is to the prime of his career, Matt Carle is gone, and a lot is going to be asked of Schenn.
Realistic Expectations: They're a playoff team, probably a top-five seed in the Eastern Conference, but until they solidify their blue line and get the Bryzgalov we saw in Phoenix, and not the Bryzgalov we saw in Philadelphia, it's hard to see them going past the second round series they made it to last season.
More 2013 NHL Season Preview