| | | |
| --- | --- | --- |
| | Washington Capitals | |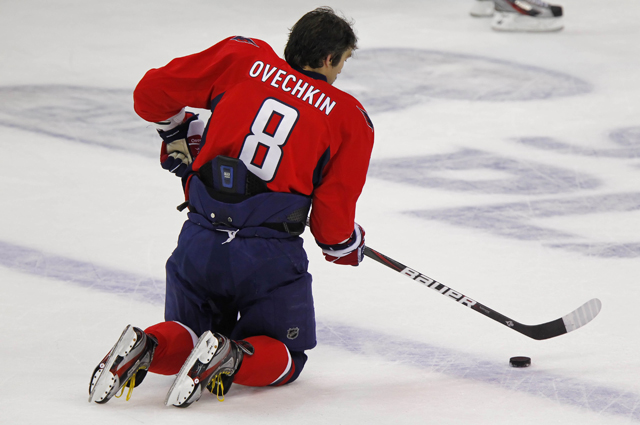 2011-12 record:
42-32-8, 92 PTS
Last season: It was one heck of a ride for the Capitals, that's for sure. They began the year with Bruce Boudreau trying to lead them further in their offensive-defensive balance but it just wasn't working. The Caps were floating, trailing the Panthers in the division so Boudreau was replaced midseason by former Capitals star Dale Hunter. The team went even more defensive under Hunter, but the results didn't change much. The Caps snuck into the playoffs as the 7 seed and pulled off the surprise by beating the defending champion Bruins in seven games. Eventually the season ended to the Rangers in a low-scoring block party.
Key offseason losses: Alexander Semin, Dennis Wideman, Tomas Vokoun, Mike Knuble, Dale Hunter
For the first time in years, the Capitals will open a season without the quartet of Semin, Alexander Ovechkin, Nicklas Backstrom and Mike Green. The Core Four is no more after Semin wasn't welcomed back to DC as he eventually signed a one-year deal with the Hurricanes. His production will be missed but it had been declining every season and he seemed to be in the penalty box as much as he was scoring. As for Wideman, well, there won't be any tears shed there, especially at the price the Flames paid to get him. Yes, he puts up points but the defense is, well, hard to defend. Vokoun didn't make the impact some expected he might but he's still a proven goalie who is now out of town. The biggest change, though? Dale Hunter resigning. The team's identity will change once again.
Key offseason additions: Mike Ribeiro, Joey Crabb, Wojtek Wolski, Adam Oates
Ribeiro, acquired from the Stars in a summer trade that included Cody Eakin heading to Dallas, is a big move for this franchise. They have had the No. 1 center spot on lockdown in recent seasons with Nicklas Backstrom there but the overall depth at center wasn't what they needed. When the injuries hit, such as Backstrom's concussion last season, the hole was too noticeable. Bringing in Ribeiro to pick up some of that center slack. His 63 points in 74 games last season will be welcome. But the biggest addition -- maybe -- is Oates. It's assumed that he will bring a return to a more offensive approach for the Caps, something which they dominated regular-season play with. His arrival could, if things go as many expect, reignite the great offensive numbers for Ovechkin and company.
Potential breakout player: Dmitry Orlov
Honestly, the Capitals don't seem to have a whole host of candidates for this designation. They have a large cast of well-established players, and that goes for young goalie Braden Holtby. He's already had his breakout with how strong he was in the postseason and what action he has seen in the past two seasons with the Caps. By default or not, though, Orlov is still somebody to look for in this department. The defenseman had his first taste of the NHL last season, scoring 3 goals with 16 assists in 60 games but he found himself riding the pine as the season wore on to the point he didn't play in any of the Capitals' 13 postseason games. With a move to a more up-tempo and offensive system, it could set up Orlov for a strong season given his offensive tendencies.
Player on the hot seat: Mike Green
First off, it's not like Green is in danger of being exiled out of DC. He just signed a three-year extension this summer before the lockout took effect. But there's a growing level of heat on Green, to be sure. Put simply, the guy has to play. He has been a walking injury the last two seasons and it has been a big detriment to the Capitals. To expect the same level of production as a few years ago isn't reasonable but a return to one of the leading defenseman scorers in the league would be welcome to go with his improving defense.
Why they will succeed: They remain the most established team on paper in the division and have become a postseason staple. The most interesting thing to watch will be how the team plays under Oates but what could lead this team to big success is the goaltending. If Braden Holtby can continue to play at a high level like he did last season in a pinch and Michal Neuvirth can be strong enough to take the lion's share of the starts, this team will be in good position -- again, assuming the offense picks up. The majority of players on this roster are either in their prime or just about to get there.
Why they won't succeed: This is a team that has had a hard time finding an actual identity in recent years. Are they an offensive team still? Are they going to be a team built around defense now? The answer is probably more toward the latter but we don't know and won't until we see Oates at work behind the bench. Missing the preseason and regular camp time might hurt this team more than other considering they are breaking in a new coach with a new system. If they take too much time getting out of the gate, especially in a shortened season, they could have a fight in a tougher division.
Realistic expectations: It's hard to truly say what's realistic for this team until we've seen them in action under Oates, it figures to be that drastic of a change from where the team was at under Hunter. However the expectation will remain a playoff berth and the Capitals are probably the preseason favorite to win the Southeast Division after having their streak at the top snapped last season. Anything beyond that is a wait and see but this team always has potential for really big things.
More 2013 NHL Season Preview