| | | |
| --- | --- | --- |
| | Tampa Bay Lightning | |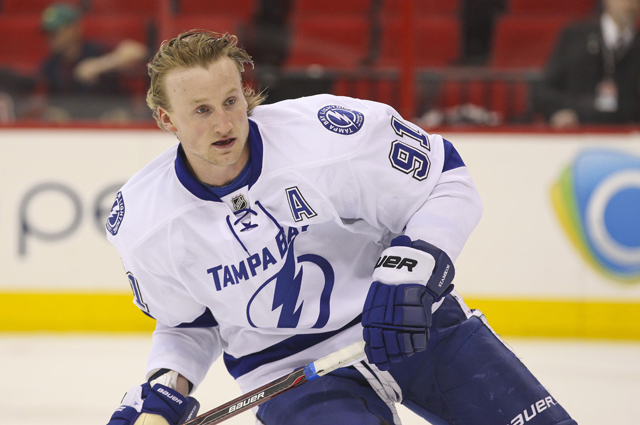 2011-12 record:
38-36-8, 84 PTS
Last season: The Bolts entered last season with some pretty high expectations for it was just two seasons ago that they took the Bruins to overtime in Game 7 of the Eastern Conference finals. Only things never got on track for the Lightning. The offense wasn't as dynamic as it was two seasons ago but by no stretch of the imagination was it bad. By anybody's definition, the defense was bad, particularly the goaltending. If the Lightning had any ability to protect their own net they would have been squarely in the playoff hunt but instead they ran as an afterthought most of the season. The drama down the stretch revolved around star Steven Stamkos and if he could get to 60 goals (he did).
Key offseason losses: Dwayne Roloson, Bruno Gervais
The good news is that it looks like the Lightning took the old "addition by subtraction" adage to heart. To state it bluntly, Roloson was terrible last season. The Lightning might have been better served to have the silhouette goalie tied to the posts. Roloson, who just turned 43, was solid for the Lightning in the 2011 postseason but sported at 13-16-1 record last season in 40 games with a 3.66 GAA and 0.886 save percentage. Those numbers just won't cut it. Considering he was realistically the weakest link on the team, his absence shouldn't be felt unless it's in a positive manner. Gervais doesn't figure to leave a meaningful hole either after heading to the Flyers.
Key offseason additions: Anders Lindback, Matt Carle, Sami Salo, B.J. Crombeen, Benoit Pouliot
Credit to GM Steve Yzerman. He saw the hole (then again, we ALL saw the hole) and he worked to fix it by making a lot of moves on the defensive side. The Lightning invested heavily in Carle, signing him away from the Flyers at a premium price. It does have the potential to be an overpay but even still it should offer a big upgrade at defense, which might not be saying much but will certainly make a difference. Victor Hedman could really use some help. Salo fits the same description but to a slightly lesser degree. But the big acquisition was acquired Lindback from the Predators to be the goaltender they have been searching for. The jury is still out on Lindback but it's tough to imagine he won't be an upgrade. Even average tending would do this team wonders.
Potential breakout player: J.T. Brown
Last season the title went to Teddy Purcell, whose second-half surge finally gave him the recognition he had deserved for some time. The obvious (and maybe best) answer for this year is probably Lindback considering he has a ton to prove at the NHL level -- his numbers behind Pekka Rinne were not great. But we'll go a different route and pick the rookie winger Brown. There are pretty high hopes for a young kid who has shown tremendous scoring potential at different levels, including at Minnesota-Duluth where he had 24 goals and 23 assists in 39 games and was named Most Outstanding Player at the Frozen Four in 2011 when the Bulldogs won the national championship. His ceiling is high and if he hits it the Lightning will become even more potent on offense. We would have also accepted Brett Connolly, who is also primed for that burst-on-the-scene season.
Player on the hot seat: Vincent Lecavalier
OK, he isn't in the hot seat in terms of getting traded -- seriously, nobody would touch that contract -- or anything. But the Bolts are counting on Lecavalier to remain on the ice. He has missed nearly 40 games over the past two seasons. They need him to play and play well. At 32 you figure he's on the tail end of his prime years so staying on the ice is key.
Why they will succeed: The Lightning did exactly what they needed to this this offseason: upgrade the defense and goaltending. When you have a guy like Stamkos to do the goal scoring and skilled veterans such as Martin St. Louis, Purcell and Lecavalier, the offense isn't a concern. We still have to wait and see how effective the new back half is going to look in Tampa Bay but it's very, very difficult to imagine them not getting better because they can't get worse. If that improves this is close to the same team that nearly reached the Stanley Cup Final two seasons ago.
Why they won't succeed: Carle struggles a bit with turning the puck over. Fans in Philadelphia probably still have nightmares about some of the giveaways in the neutral and defensive zones. If that continues then that big contract might look uglier. But what will determine this team's success is going to be the goaltending. If Lindback shows that he isn't No. 1 quality then this team likely struggles again because Mathieu Garon isn't the answer -- that's not to say he isn't good enough to be the No. 2. Oh, and injuries. Injuries are bad, especially if one hits Stamkos.
Realistic expectations: Until I can see proof that Lindback can excel as a starting goaltender, I will remain reserved on this team. But even still, just an improvement will mean the Lightning are in the playoff race. If things go well with Lindback then we're certainly looking at a team that's going to compete for the Southeast Division crown. The Southeast will be much better this season and the improvement of the Bolts is a big reason why. Realistically, this team can aspire to be a playoff team.
More 2013 NHL Season Preview