| | | |
| --- | --- | --- |
| | Carolina Hurricanes | |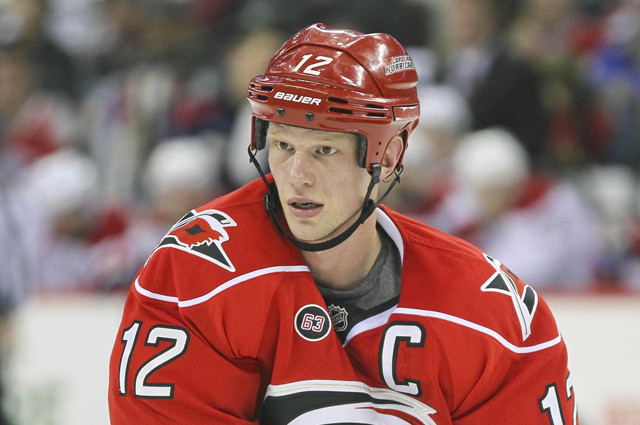 2011-12 record:
33-33-16, 82 PTS
Last season: It was kind of a lost season for the Hurricanes in 2011-12. They didn't start the year strong -- Eric Staal was particularly slow out of the gate -- and they just never put it all together. The offensive production was down as Staal was the only player to record at least 50 points (he finished with 70) and only two others -- Jussi Jokinen and Jeff Skinner -- had at least 40 points. That stumble out of the blocks led to the early firing of Paul Maurice behind the bench and they brought in the fresh-faced Kirk Muller to run the show despite his lack of experience as a coach. The Canes finished the season strong, inspiring some hope for Muller's tenure.
Key offseason losses: Brandon Sutter, Bryan Allen, Jaroslav Spacek
The biggest loss here will probably be Allen from the defensive corps. He might not get a ton of attention for the work he does, but Allen is a strong in-zone defenseman who does his job. He doesn't give much in the way of offense at all, but he gives a lot of D. He signed with the Ducks in free agency, so it will be up to the young corps to fill in for him and Spacek, who remains unsigned. But don't discount the loss of Sutter. You have to give something to get something and Sutter was the price to pay for the big deal with the Penguins. He's a good lower-line center who contributed with 17 goals last season.
Key offseason additions: Alexander Semin, Jordan Staal, Joe Corvo
This is why hope is high in Raleigh. An offense that sagged at times last season partly due to down seasons and partly to injury (Skinner played just 64 games) gets two potentially massive boosts in Semin and Staal. Jordan came over from Pittsburgh after he failed to reach a contract extension with the Penguins. The reasons appear to be two-fold: No. 1 he gets his chance to shine and step out of the third-line center behind Malkin and Crosby and No. 2 is he gets to play with brother Eric. Can he be as productive in Carolina as he was in Pittsburgh? Then you have Semin, a player who oozes talent. Perhaps a change of scenery will do him good and he can return to his old Washington form.
Potential breakout player: Ryan Murphy
In the past couple of seasons the Canes have had some big breakout performances from their young guns like Skinner and defensemen Jamie McBain and most recently Justin Faulk. Faulk is only going to continue to burst out but we're going to say he's already hit the scene. So next in line would be the young defenseman Murphy. The 12th overall pick in the 2011 draft, Murphy is a bit undersized but is one of the most electric offensive defenseman prospects we've seen in some time. In 2010-11 with the Kitchener Rangers, for example, Murphy had 26 goals and 53 assists in 63 games. Remember, he's a defenseman. But there's no guarantees how much time Murphy will see, so the second option would be Zac Dalpe. He has had strong numbers in the AHL and NCAA but hasn't put it together in the NHL yet.
Player on the hot seat: Semin
There were a lot of skeptics about Semin this past summer, a lot. That's why it took him weeks to eventually sign a deal, which was only a one-year contract with the Hurricanes. While the cost of his contract is high, there's little risk besides that and if things don't go well then there is flexibility. If they do go well then he could be in line for an extension. I don't believe Semin is the coach killer and bad-for-chemistry guy that so many make him out to be, but it's certainly possible this union doesn't work well and if that's the case, Semin's reputation will be slammed even more.
Why they will succeed: This was a team that played out the string relatively strong last season and then upgraded with some proven talent to surround the young nucleus the franchise has built. The offense will be better with Semin and Jordan Staal joining the mix, the Canes will score some goals this season, there's no doubt about that. But what's ignored about this team is the defense and how it continues to grow. The core of McBain-Faulk moving forward is a great start to add to Joni Pitkanen and Tim Gleason. The first full season under Muller means the team plays his way from the beginning. Based on last season, that's likely a good thing.
Why they won't succeed: As alluded to earlier, Semin turns out to be a big disappointment and just doesn't seem to fit in with the Canes. Further, the defense doesn't improve and can't give Cam Ward the help that he needs to be a great goaltender.
Realistic expectations: The division is certainly there for the taking for the Hurricanes. The Southeast as a whole is better, and the Canes are a massive reason why, but there's no clear favorite among the bunch. There's no reason to think it can't be the Hurricanes. However it might be a little more realistic to scale back the expectations a touch and look to get back to the postseason. They can definitely shoot for a low seed in the playoffs.
More 2013 NHL Season Preview