| | | |
| --- | --- | --- |
| | Ottawa Senators | |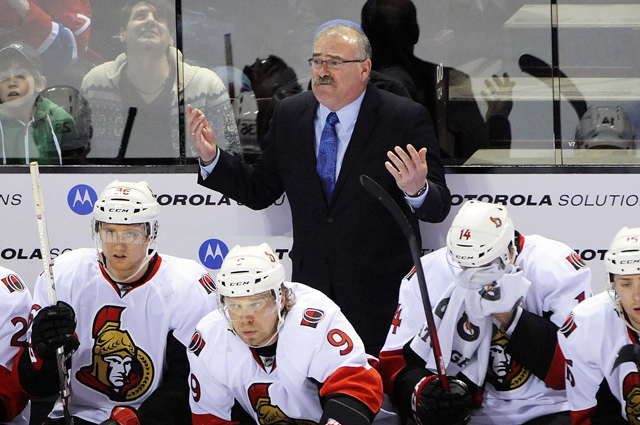 2011-12 season:
41-31-10, 92 PTS
Last season: Nobody expected the Ottawa Senators to do anything of significance in 2011-12 other than maybe compete for the No. 1 overall pick in the draft. But led by first year coach Paul MacLean the Senators turned out to be one of the better stories in the NHL and snuck into the Eastern Conference playoffs as the eight seed and gave the top-ranked New York Rangers everything they could handle, forcing them to a winner-take-all Game 7.
Key offseason losses: Filip Kuba, Matt Carkner, Zenon Konopka, Nick Foligno
Norris Trophy winning defenseman Erik Karlsson lost his top blue line partner in Filip Kuba as he left in free agency to join the Florida Panthers. To help replace him on the blue line the Senators dealt young winger Nick Foligno to the Columbus Blue Jackets for Marc Methot, more of a stay-at-home rearguard that played a lot of tough minutes for Columbus over the years (though, he didn't always play them all that well).
Key offseason additions: Guillaume Latendresse, Mike Lundin, Marc Methot
Don't sleep on the addition of Guillaume Latendresse, a productive player earlier in his career with the Montreal Canadiens, if he can stay healthy. That, of course, is an enormous if as he's appeared in just 27 games over the past two seasons. It's a low-risk, potentially high-reward signing for the Senators.
Breakout player: Ben Bishop
Ben Bishop lost out on a numbers game in St. Louis, unable to crack the lineup ahead of Brian Elliott and Jaroslav Halak. The Senators then swooped in at the trade deadline and picked him up for a draft pick. He doesn't have a ton of NHL experience at this point, but he has incredible size and has dominated at the AHL level.
Player on the hot seat: Kyle Turris
Why Kyle Turris? Simple. The Senators gave him a huge contract based on a relatively small body of work. Five years and over $17 million for a forward that's never scored more than 12 goals or recorded more than 30 points in a season is a pretty big risk. He's young and has talent, but he better be worth it.
Why they will succeed: Teams that possess the puck the most win the most. This is a fact. Last season the Senators were one of the best possession teams in the Eastern Conference with a Fenwick rating (percentage of shots on goal and shots that miss the net) of over 50 percent, good enough for sixth best in the conference, an improvement from where they were the season before. A lot of that could be from the influence of MacLean and his system. They have some of the top players in the NHL at their respective positions, like Jason Spezza and Karlsson, so it's not a team totally lacking impact playmakers.
Why they won't succeed: A lot of players had what could be career years last season, including Karlsson and Milan Michalek. What happens to the Senators if there's some natural regression with these guys?
Realistic expectations: A team that will fight for a bottom playoff spot and will be on the bubble for most of the season. All depends on Craig Anderson's ability to maintain his play as a league average goaltender (and these days there is nothing wrong with being a league average goaltender) and not seeing much of a fall off from guys like Karlsson and Michalek.
More 2013 NHL Season Preview