Olympics Viewer's Guide: Monday July 30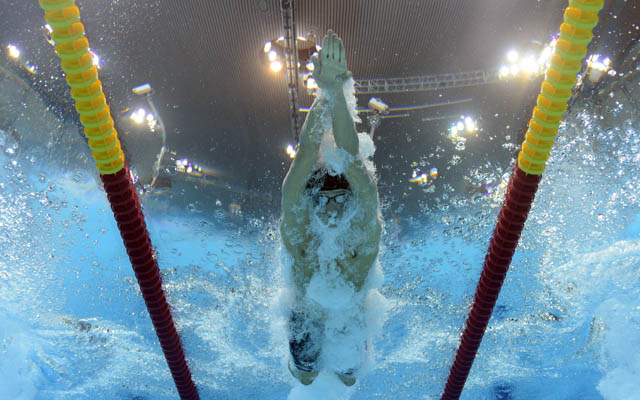 Another shot at gold for Lochte on Monday.
(Getty Images)

Trying to watch the Olympics? Even with NBC now streaming every event live online, the wild array of events -- and difficulty in finding live events, for anyone like us not interested in avoiding spoilers all day -- can make the television viewing experience a bit bewildering.

But we're here to help. Here's our chronological list of the events U.S. Olympic fans should consider watching, and where, for Monday, July 30th. All times Eastern and all events are live action unless otherwise noted. (A note to Mountain and Pacific viewers: all events shown on NBC will be on a one-hour delay. Sorry.) Many of the secondary events are also highly subject to change.

Sixteen gold medals will be handed out Sunday, and a lot more important/build-up events will also be taking place. If you're going to be stuck heading to work Monday morning, chances are you want to know what you can block out for when to get the most out of the Monday Olympic experience.


Here's what awaits you Monday:
4:30 a.m. ET Men's Judo 57kg, Women's 57kg (Medal Event):
It's judo. You will not find group of badder people than this. This sport gets roughly 4 percent of the appropriate attention it deserves.
10:00 a.m. ET - Diving: Men's 10m Synchronised Platform (Medal Event):
Diving! Everyone loves diving right! Well, turns out the Chinese love it a little bit more than everyone else. They're expected to dominate the diving competitions, with one exception.

The 10m Synchronized Platform. It's there that China fields a pair of teenage first-time Olympians in Zhang Yanquan and Cao Yuan. They're still the favorites, because the Chinese are monsters who come out of the bed to snatch diving medals, but they've got some legit competition. The Americans send David Boudia and Nick McCrory to the board while British star Tom Daley partners with Peter Waterfield in a great chance to medal for the home nation.

China taking this with what may be their weakest team would be a huge statment.
(Broadcast on NBC's Primetime Special at 7 p.m. ET.)
11:00 a.m. ET - Men's Gymnastics Team Final (Medal Event):
All of a sudden, the U.S. men's team have a legitimate shot at the gold, leading after the qualifying round, with Russia in second and Great Britain in third.

For more on the U.S. Men's Team, here's the rundown from our own Jerry Hinnen.
(Broadcast on NBC's Primetime Special at 7 p.m. ET.)
11:45 a.m. ET - Women's Volleyball, Group Play, U.S.A. vs. Brazil:
Destinee Hooker is 6-4 from San Antonio and can block shots like Anthony Davis without the unibrow. This is a ridiculously athletic crew of youngsters the U.S. has going for itself, but they're up for an unfathomably tough test from the reigning champs from Brazil, who got a scare from Turkey in their opener, barely edging out 3-2. (Broadcast live on NBC.)
2:30 p.m. ET - Swimming (4 Medal Events)
The Ryan Lochte pursuit kicks back up again with the Men's 200m Freestyle. Lochte faces off against China's Sun Yang who topped the prelims. Yang vs. Lochte figures to be a prolific battle in the event as the American tries to get back on track for gold after taking silver in the 4X100 freestyle.

The Women's 100m Backstroke features Missy Franklin for the U.S. in lane 5, but she'll have to contend with Emily Seebohm of Australia and Anastasia Zueva of Russia.
(Broadcast on NBC's Primetime Special at 7 p.m. ET.)
2:40 p.m. ET - Women's Individual Epee Fencing Final (Medal Event):
The Chinese send the top-ranked women's fencer in the event in the world. But that's OK, because No. 2 is... also Chinese. Perhaps you are sensing a pattern, here.

But, the Chinese have never won gold in the event.

The Americans' 20th ranked Courtney Hurley goes for the upset, but the biggest contenders outside of Li Na and Lu Xiojuan of China are Anca Marouiu, Simona Gherman, and Ana-Maria Branza, of Romania. Branza took silver in 2008.

But this is a tournament. Think of it like the round of 32 in March Madness, only with foils.
2:40 p.m. ET - Women's Water Polo Preliminary, U.S. vs. Hungary:
The U.S. Women's team is one of the favorites in the event, and they face Hungary who took third in the European Championships this year. The Women are looking for their first gold in the event. The team is comprised of almost half newcomers, so get ready to learn some new faces.
5:15 p.m. ET - Women's Basketball, Team USA vs. Angola:
Team USA struggled in their opening game and need to bounce back in a big way. Diana Taurasi was quiet in the opener while Chamika Catchings came on strong inside. This needs to be a bounceback game for the U.S. to get its bearings. (Broadcast at 5:15 p.m. ET on NBC Sports Network.)


Other events of note:


10:30 a.m. ET Weightlifting - Women's 58k and Men's 62kg (Medal Event):
Picking heavy objects up and putting them back down again. Chinese Li Xueying leads the field in the women's 58, while Jie Zhang leads the pack in the Men's 62kg. (Broadcast at 3:30 p.m. ET on MSNBC.)

11:15 a.m. ET Women's Handball, France vs. Spain, Norway vs. Sweden Pool Play:
Norway was stunned by France in their opening game, and you really need to see the athletes on display in this one. Ball movement, passing, and quality defense. It's like European basketball, only with all those things. (Broadcast at 4:15 p.m. ET on MSNBC.)