Handball: France takes out Norway with aggression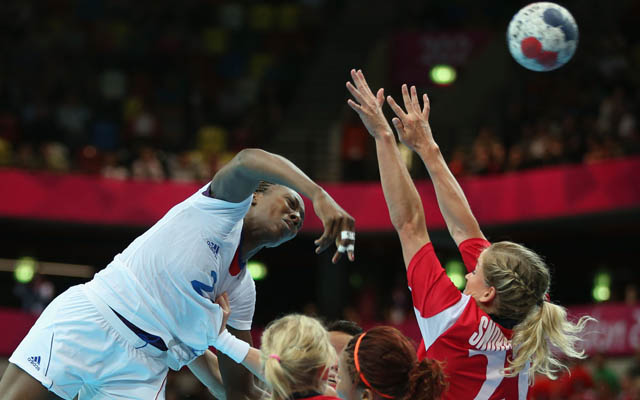 France got over the top of No.1-ranked Norway in opening group play.
(Getty Images)
First off, how is handball not more popular in the U.S.? With the kind of point guards we employ in basketball, the kind of athletes at running back and infielders, is there any reason this wouldn't translate well to our sensibilities? There's passing, there's throwing, there's a goal, there's a defender at the point of score, there's physical contact, how are we not embracing this sport?
Regardless, you should know Norway's nomen's national team is pretty much awesome. They're basically the UCLA from the 70's of handball. They've won the past four European Championships, they won gold in Beijing in 2008, they took Bronze in the 2009 World Championship and Gold in the 2011 World Championship.
They're pretty much Ben Stiller's team from "Dodgeball."
And France just suckerpunched 'em and threw 'em out the back door.
Not any major upset with France the second-ranked team in the land, but their aggression was constant and prolific. France lead 3-0, 6-1, and 17-2 at the break, before a frantic second half was marked by a furious comeback from Norway. After leading by five, 21-16, France watched as a cross-body jumpthrow from Norway's Ida Alstad cut it to 24-23. After France failed to convert, Norway raced out in transition, but France tied up the player in transition to reset with one second left, and France would hold on.
The key to France's victory was aggression in transition, where the French women were finding open gaps in Norway's defense pressing the ball and then redistributing to the corners. From the left side France shot 12 of 13.
French goalkeeper Amandine Leynaud held Norway to just 39 percent shooting on goal, and I'm pretty sure Paule Baudouin ran the fast break better than Lamar Odom ever has.
Both teams are expected to survive and advance to the quarterfinals, despite Norway's topple.