Olympics Viewer's Guide: Wednesday, Aug. 1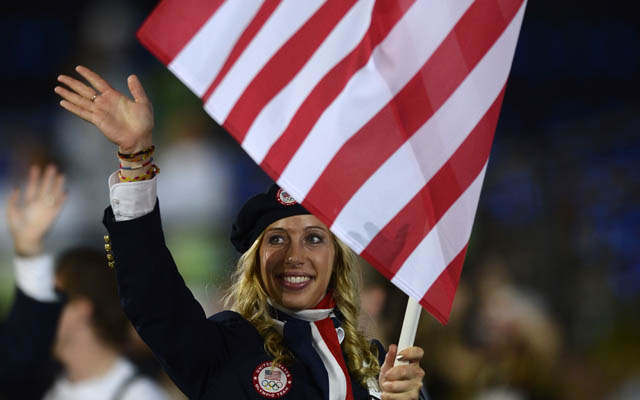 Mariel Zagunis goes for gold Wednesday.
(Getty Images)
Trying to watch the Olympics? Even with NBC now streaming every event live online, the wild array of events -- and difficulty in finding live events, for anyone like us not interested in avoiding spoilers all day -- can make the television viewing experience a bit bewildering.

But we're here to help. Here's our chronological list of the events U.S. Olympic fans should consider watching, and where, for Thursday, August 1st. All times Eastern and all events are live action unless otherwise noted. (A note to Mountain and Pacific viewers: all events shown on NBC will be on a one-hour delay. Sorry.) Many of the secondary events are also highly subject to change.
Here's what awaits you Wednesday:
denotes medal event.
8:45-9:30 a.m. Fencing - Women's Individual Sabre Early Rounds, NBC Sports Network
10:30 a.m.-3:50 p.m. Fencing - Women's Individual Sabre Late Rounds, MSNBC
That's right ... you can watch swashbuckling all day. Mariel Zagunis is the favorite to win Gold for the U.S. headed into this one, and has medaled in 12 of her last 13 tournaments. The only foreign rival to beat Zagunis in 2008 is China's Xiaodong Chen.

You may remember her as the lovely young woman carrying the flag in the opening ceremonies. She's not to be trifled with when she's with a blade. Olga Kharlan may be her stiffest challenge, she's 0-3 against Kharlan this season.
Diving 10:00 a.m. Men's Sych 3m Springboard, NBCOlympics.com.
China's once again the expected favorite with Luo Yutong and Qin Kai pairing up while the Americans send Troy Dumais and Kristian Ipsen to the board.
10:30 a.m. Table Tennis Women's Singles Ning vs. Xiaoxi, NBCOlympics.com. MSNBC at 7:00 p.m.
Yes, it's China vs. China, but this is also arguably the two best players in the world heads up and it's not like there's no pressure here. Li has been really savvy with her play not just using the coordination but great dexterity and control.
11:30 a.m. Gymnastics - Men's Individual All-Around, NBCOlympics.com.
After the disaster in Monday's team event, the U.S. men shift to the individual All-Around, with John Orozco and Dannel Leyva taking the floor. Orozco tries to recover from his struggle on the vault on Monday.
11:30 a.m. Men's Beach Volleyball Team USA vs. Latvia, NBCOlympics.com.
Gibb and Rosenthal are the underdogs to Latvia here, but not by much.
1:20 p.m. Water Polo Group Play Team USA vs. Spain, NBC
I was really tempted to make a lame joke about the lame joke (it's meta, you see) about the horses drawning, but I thought better of it. Anwyay, this is by far the most exhausting sport I've seen in the games and I watch dudes try and cover the basketball squad for full games. You need to appreciate the work involved in this.
2:30 p.m.: Swimming, NBCOlympics.com.
Here's the order of the biggies; all listed are medal races and all names in parentheses are American paddlers:


2:30 p.m.: Men's 200m Breaststroke (Clark Burckle, Scott Weltz)

3:12 p.m.: Women's 200m Butterfly (Cammile Adams, Kathy Hersey)

3:20: Men's 100m Freestyle (Nathan Adrian)

4:04: Women's 4X200m Freestyle (Missy Franklin, Alison Schmitt, Dana Vollmer, Lauren Perdue)

Also in action, non-medal:
5:43 a.m. Men's 200m Backstroke heats (Ryan Lochte, Clary), NBC at 12:00 p.m.
6:06 a.m. Men's 200m individual medley heats (Ryan Lochte, Michael Phelps) NBC at 12:00 p.m.
5:43 a.m. Women's 200m Breastroke heats (Rebecca Soini, Micah Lawrence)NBC at 12:00 p.m.
(Broadcast on NBC's prime-time special at 7 p.m.)
3:00 p.m. Women's Volleyball Group Play Team USA vs. China, NBC
If you have not experienced the awesomeness of 6-4, 42-inch-vertical-leaping Destinee Hooker for Team USA, this is the game to get on the wagon. It's a matchup of the leaders in group play, with USA looking to take the lead and make a huge statement as the favorites.

Team USA is stacked with young athletes with power and athleticism, this is going to be a huge game to see just how good they are. Both China and the U.S. won their first two matches 3-1, both stand at 6 points in group play.
(Broadcast on NBC's prime-time special at 7 p.m.)
6:00 p.m. Beach Volleyball Group Play Team USA vs. Austria
Jennings and May-Treanor won in straight sets 2-0 in their first two matches, looking to make it a third against Austria's sister pair of Stefanie and Doris Schwaiger. The Americans have a combined 16 years of experience advantage, or Austria has 16 fewer years of wear and tear, depending on how you look at it.
(Broadcast on NBC's prime-time special at 7 p.m.)
Other notables:
4:30 a.m. Women's Handball Norway vs. Korea, NBC Sports Network (broadcast at 5:00 a.m.)

Norway bounced back from their shocking opening game loss to France with a narrow win over Sweden, but now face undefeated Korea whose speed is up there with the best in the tournament.
5:10 a.m. Rowing, NBCOlympics.com. NBC 5:45 p.m.

Three U.S. teams are on the startlist for Women's Pair, Women's Quadruple Sculls, and Men's Eight. If discipline is your thing, you need to see if the U.S. can bring add to their 84 medals, with 31 gold in the event all-time.
10:15 a.m. Canoe Whitewater Final

It's like an organized water park slide event. Only obscenely hard and it can kill you.
10:30 a.m. Women's 25m Pistol - Final

I'm sorry, there's something called "the rapid fire qualification round in this." So basically, under no circumstances should you not watch this.
2 p.m. Weightlifting: Men's 77kg

The Men's 77kg is going to be a considerable rivalry matchup of China vs. North Koria. Lu Xiaojun vs. Jaehyouk Sa is a rematch of the 2011 World's Championship where Xiaojun topped Sa.