U.S. women set Olympic record in 4x200 freestyle relay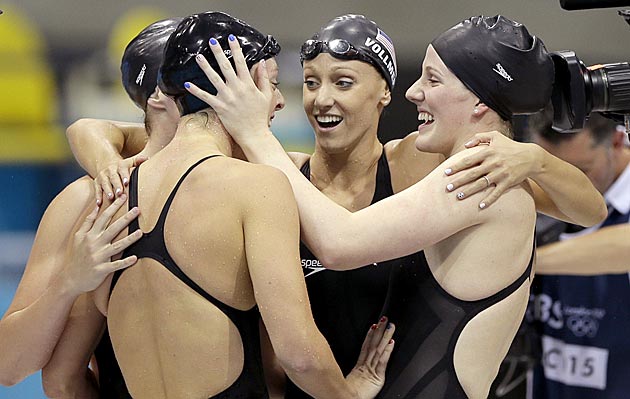 Vreeland (left) and Franklin (right) embrace Schmitt (foreground) and Vollmer after their victory. (AP)
They were favored, and oh did they ever come through.
I'm not sure if this is the greatest American relay team in the 4x200, but as it stands now, it looks like all of these swimmers are either entering or in the prime of their careers. These are golden times in the pool for most of USA Swimming, and specifically for the women talented enough to reach the Olympics.
Related links
Missy Franklin, Dana Vollmer, Shannon Vreeland and Allison Schmitt set an Olympic-record time of 7:42.92 on Wednesday night in the 4x200 freestyle relay, easily taking the gold ahead of second-place Australia, who touched a second and a half behind (7:44.41). France won the bronze, swimming the event in 7:47.49.
The U.S. trailed Australia after Franklin's first leg, swum in 1:55.96, but took the lead at the halfway point, behind Vollmer's push. Vollmer, who is now the world record holder in the 100-meter butterfly and was part of the 2008 4x200 free team that won a bronze, swam the second leg. But heading into Schmitt's anchor swim, the United States was again a body length behind the Australian team, which broke USA's decades-long gold medal streak in this event at the '08 Games.
The gold medal was able to get back to the U.S. thanks to Schmitt, the new Olympic record-holder in the 200-meter freestyle, blowing past Aussie stud swimmer Alicia Coutts. Heading into the final leg, Australia had a .54 lead, meaning Schmitt made a two-second turnaround in 200 meters. Her leg was completed in 1:54.09.
Schmitt now has four medals from these games, as many as Coutts, who shared the current record. The United States has 18 total swimming medals, eight of them golds. It leads in both categories.
The race pretty much solidified the fact that the U.S. is once again the most predominant swimming nation in the world. We've got more races to go and finish out the week with, but no one is catching the United States in overall pool medals, and the golds also seem out of reach (China is currently second, with four).